Bagua: Whimsical & Colourful Home Accessories in Zamalek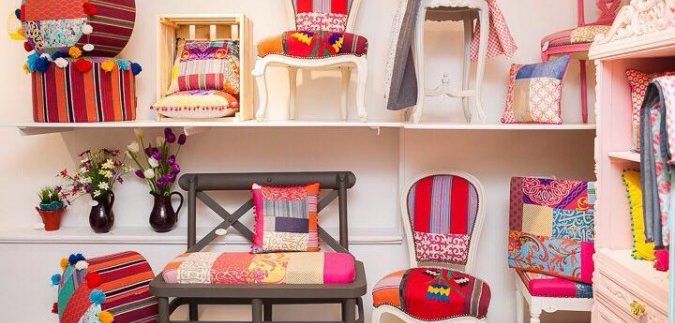 Home décor in Egypt has, traditionally, been equated to a few key elements – think gilded chairs and couches, gigantic dining table, et al. As with all things of aesthetic value, this has changed dramatically in recent years and there's a much more pluralized vision of what a home can be – home décor has changed from a way to please yourself than to please others. Because in Egypt, hell hath no fury like an unimpressed and judgmental guest scorned.
New in Zamalek, Bagua's philosophy, if you will, is all about giving you peace of mind – through furniture and décor. Located on the quiet Ahmed Heshmat Street, the shop is rather small and packed with pieces. Despite this, though, there's a certain sense of serenity and playfulness to the space – the kind you'll want to take home with you.
The first thing that caught our attention was a tall, ovular mirror with wooden framing and stand, painted in a deep turquoise colour selling for 1600LE. There's also a collection of classic-looking chairs in various sizes and designs that have been reupholstered with a modern, bohemian spirit, some of which have matching seat cushions (190LE).
Several high shelves hold a selection of decorative lampshades; some made of terracotta, others made of glass. Unfortunately, they're rather glum in colour and lampshades need to be purchased separately. There is also a range of pitchers and jugs, in a similar vein of design, which sell for around 100LE.
Other items of note included dinner plates designed with antique motifs. At first glance, one would assume that they're mad of porcelain. On second inspection however, we realised that they were made of controversial material, melamine. Stocked in a range of different sizes, the plates retail between 60LE and 150LE.
Bagua houses plenty of great items that would be perfect gifts, but when it comes to essentials of the home, you're unlikely to find anything that doesn't make a statement – that of course suits some more than others. One thing that can't be denied is that the new shop offers some truly unique pieces – how innovative Bagua is when compared to so many other emerging shabby-chic home accessory shops in Cairo? That's for your discerning eyes to decide.