Balady: Retro Egyptian Gifts & Accessories in Zamalek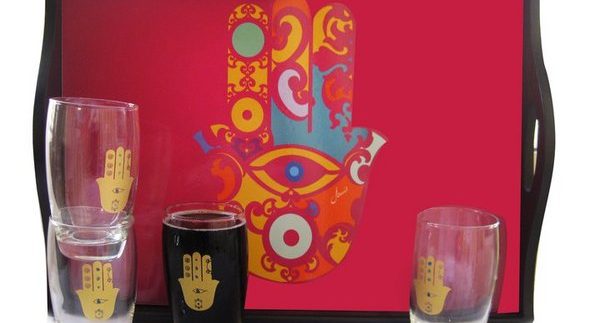 If there
is one place to go to in Cairo when you are looking for artsy trinkets and
gifts it is definitely Mansour Mohamed Street in Zamalek. Just up the street
from artsy novelty shop Home and Beyond
another shop is located carrying a similar assortment of products. The shop
carries the revealing name Balady which immediately gives away that this is the
place to go when looking for Egyptian products and designs.
The shop
is quite big but still seems packed with goods. At the time of our visit, we found
bright blue, hand-decorated serving trays for storing. The small ones cost
250LL while the big ones cost 400LE. Next to the trays were a collection of
boxes that are neatly decorated with
pictures of former Egyptian film stars or members of the royal family. A medium
sized box will set you back around 250LE. King Farouk and co are a recurring subject
in Balady. For 200LE you can get a pop art style painting of his face. If you
are not a big fan of Egyptian royalty then you might like the Nasser painting
(200LE) more. In case you aren't down with any of this, then opt for the Sophia
Loren painting instead.
Balady
also carries various scented oils starting at 25LE. There are all kinds of
scents available and cute little holders as well. The best part of the store
however, is the table filled with bags. Whether you are looking for a makeup
bag, a lap top case or a clutch, you can find all of it here. There are various
prints available ranging from calligraphy and more Egyptian movie stars from the
golden era to the Beatles and the Egyptian Royal family. The small bags are
around 50LE. Expect to pay 150LE maximum for the big bags. Laptop cases are a
bit more expensive at 300LE.

We
especially fell in love with the King Farouk pop art laptop bag and the Beatles
bag.
There is
also a bookshelf with notebooks. Most of them have a calligraphy or meshmesheya
design. Though very cute, they are very expensive; starting at 70LE for a small
notebook. There is also an extensive collection of gift cards for any occasion.
The simple ones are 10LE and the calligraphy pieces are 20LE. Besides from all
this you can also get kaftans, curtains and pottery items.
Balady
carries lots of nice items and will have you returning time after time. It's
one of those stores where you will never leave without buying something.