Be You: Every Diva's Replica Handbag Heaven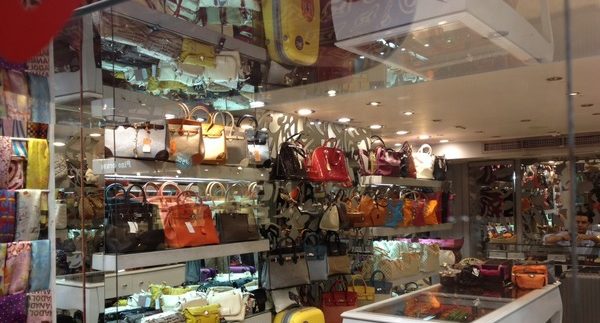 With branches all over Cairo, Be You specialises in quality, replica handbags. Having spent many hours at their
Citystars
branch, we thought we'd venture to Mohandiseen and give their shop – just off Lebanon Street – a whirl.
Everyone knows that an eye-catching handbag is a vital part of any girls outfit and needless to say, most girls dream of owning hundreds of designer bags. Although it's free to dream, let's be honest, unless we win the lottery or become famous overnight, this is likely to remain a little far-fetched for the foreseeable future. However, there's no need to worry about how you're going to make your millions just yet as Be You copies all the latest couture handbags and wallets; you can get the look, without the hideous price tag.
This glass fronted shop is brightly lit from the inside and the walls are covered, from floor to ceiling, with bags of all different shapes, sizes, colours and labels; we felt like children walking in to a sweet shop. They stock a range of (wanna-be) designer names; there were copies of the well known Louis Vuitton, Gucci, Chanel, Jimmy Choo and Tory Birch designs along with some genuine looking Burberry, Mulberry, and gorgeous Hermes wallets.
There was just one assistant in this little shop, which would have made for a nice, personal shopping experience. That is, if he was at all interested or even slightly excited about the products he was in charge of selling. It's probably worth mentioning that the shop assistants in City Stars' Be you are wonderfully friendly and tend to flounce about, pulling bag after bag from the shelves, just because they think you might like them. But, if you know exactly what you're looking for, enthusiastic assistants aren't entirely necessary – just nice to have.
We noticed that this branch also stocks an array of colourful carbon copy scarves, perfect for everyday wear; you wouldn't need to worry too much about ruining or losing it, whilst managing to look like a celebrity at the same time. They also stock flip-flops but after a quick glance, we decided they were best avoided; if you're going to copy something, please try to copy it well.
Along with the assortment of fake bags to make you feel like a princess, the prices are fairly reasonable too, with sales of up to 50% off running regularly. The bags range from 120LE to 350LE and the purses start at 95LE but don't exceed 200LE – absolute bargains compared to the originals in our opinion.
Whether you're looking for a casual day time bag or one to complete that classy evening out, Be You might be the way forward – at least until we've all saved up enough pennies for the real thing anyway.