Blanche Cadeaux: Children's Wear at Genena Mall in Nasr City
Genena Mall, 2nd floor, 9 El Batrawy St., off Abbas Al Akkad St.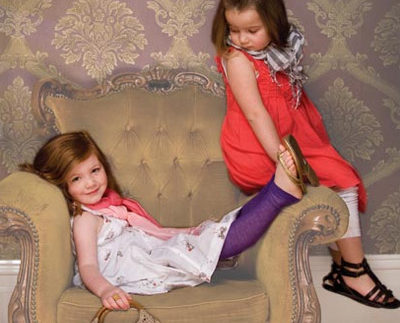 With gift
shops and casual wear retailers dominating most of its space, getting kid's
wear might be a hard task to cross off of your shopping list when shopping at Genena
Mall in Nasr City. Thus, when one finds a promising looking shop like Blanche Cadeaux
on the mall's second floor, it's disappointing when it turns out to be somewhat
of an underwhelming find.
The clothes
at Blanche Cadeaux often seem overpowering due to the occasional collision of
styles; a dress with many layers and a busy floral print (117LE) can do without
the additional knitted flowers attachment. Even plainer individual items are
matched up into peculiar outfits. A pirate-like white shirt with ruffles accompanies
a knee length skirt and leggings. The outfit is very expensive at 465LE.That
being said, if you browse carefully through the displays, you may well find
some very pretty formal dresses such as a ballerina-style pink dress (187LE)
which is made of light layers of chiffon that garnish the plain top half. For a
formal look for boys, there is a red tweed jacket (473LE) next to a plain
knitted pullover that comes in solid black for 140LE that are both suitable for
formal occasions.
Blanche Cadeaux
caters for a wide range of ages. Baby clothes are mostly made up of a
collection of onesies with bunnies on them, in pink, baby-blue and yellow for 91LE
each. Skinny jeans which look appropriate in size for a 10-year-old sell at
136LE, although the staff insist that they can stretch to fit adults.
The shop
also has an accessories section which features a handful of plastic bracelets
(6LE) and hair clips. Another thing that comes in handy is the baby socks
(12LE) that are available in packs of eight pairs.
All in all,
though there may not be many tempting choices, Blanche Cadeaux has some good
catches in terms of dresses and jeans for kids. It takes a bit of work to find
those, but the shop is also a good place for basic leggings or socks for your
little ones.