Body Bakes: Novel Natural Body Care Brand at Citystars
Citystars, Phase 2, Floor 2 (in front of Pinkberry), Omar Ibn El Khattab St.
Across Cairo's shopping scene, shops like Bath and Body Works and the Body Shop have been dominating the body-care market, with only Egyptian brand, Nefertari, putting up a fight.
However, newly launched local brand, Body Bakes, aims to introduce a new and novel concept of healthy and natural products. What makes the brand standout is that all of Body bakes products are SLES free; SLES is a chemical used in all soap and shampoo products to create foam, though it has been known to cause hypersensitivity, hair loss and skin irritation.
When you pass the modestly-sized booth in Citystars, you'll understand why it's called Body Baked; it almost smells like baked deserts and the products are not your typical soaps and body scrubs – they contain foods that you usually find in your kitchen, the most interesting being sugar (more on that later).
The booth at stands out with its use of bright colours and the way that the products are laid out makes it easy to go through the whole collection.
Our eyes caught some interesting products like the cupcake soap (50LE), Powerpuff Deodorant (45LE), Basil Soap Syrup (30LE), Lip Balm (50LE) and Pina Colada Sugar Frost (70 LE).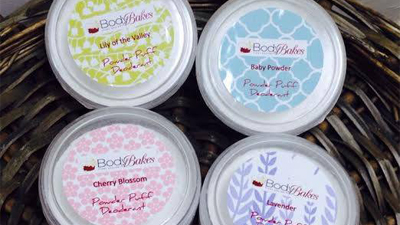 Almost all of the products use almond oil which is known for softening and nourishing the skin and, to our surprise, the cupcake soap actually smells like cupcake; you're technically washing your hands with food with sanitising abilities. The soap will leave your hands smelling like just-baked-out-of-the-oven cakes, though the size of the soap doesn't quite justify its high price.
Then there's the Powerpuff Deodorant; a powder-based deodorant that comes in a circular tin. Using the powder proved to be a little bit messy as there's no obvious method of application; you'll need to find an external cotton pad in order to apply it. However, the deodorant itself works as well as any spray or roll-on we have ever used. Its texture is soft enough for underarm skin and absorbs sweat.
The Basil Soap Syrup was regular liquid hand wash soap which leaves your hands refreshed, clean and smelling like fresh basil. The lip balm, meanwhile, was also packaged in a tiny tin that you use your own fingers to apply. As creamy and soft as it felt, it was a little bit greasy.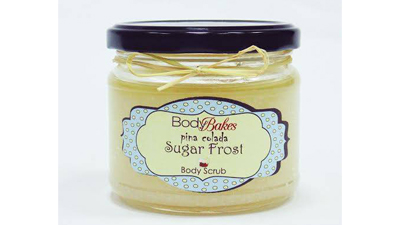 Our favourite product was the Pina Colada Sugar Frost, which is a natural body scrub that contains actual sugar mixed with almond oil. The minute you dip your hands into the jar, you can feel the sugar particles between your fingers. Some lines of thought hold up sugar as an alternative and effective natural scrub for sensitive skin. The Sugar Frost left our skin pampered and scented; the fragrance even lasted for a few hours.
Body Bakes' creative and unique produces have us wanting to come back for more, if just for the novelty; however, some are a little over priced. For those who are looking for natural body-care solutions, it's a must try; but as tempting as it is – and it really is tempting – please refrain from eating them.