Boho Gallery: Local & International Brands in Heliopolis
6 E El Shaheed Sayed Zakaria Khalil St. Sheraton Bldgs.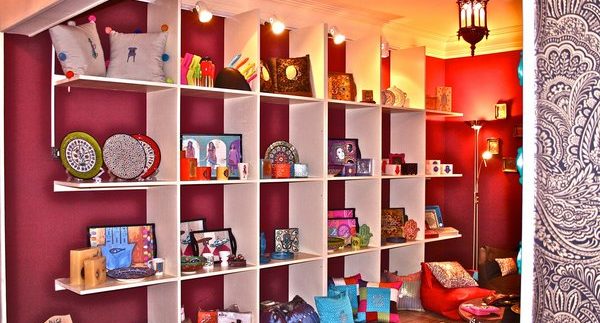 There must be some
unwritten rule stating that no affordable and fashionable item of clothing
shall be made accessible without a painstaking search across all of Cairo. For
example, in a high-street fashion shop, you scour dozens of expensive items to
find a reasonably priced one; or in a cheaper shop, you have to go through
dozens of unappealing items to find a good catch.
The recently opened
Boho Gallery breaks this rule. It seems they have scoured both the local and
European markets and made all such good catches readily available to Heliopolis
residents under one roof. Located on a side street off Salah Salem, in the
Sheraton Buildings, the shop offers trendy clothes, evening dresses, bags,
shoes, accessories and home accessories by both local and regional designers as
well as high-street brands from Europe.
Once you're inside
you are immediately greeted by a stand filled with imported miscellaneous items
such as reusable party picks and chopsticks, or colourful phone handsets that connect
to any mobile at the price of 190LE.
They are all fun pieces which you would not ordinarily find in Cairo.
Home accessories
include cushions, coasters, towels, trays, mugs by Egyptian designers Joud,
Khamsa Wekhmeisa and Cairoed, as well as candles from Candle Collection. A key
chain hanger in shape of a wooden key by Emseko Elkhasab was especially nice,
as was a seven-piece steak knife set. We also liked the colourful waterproof
mitten and apron set for 85LE.
Our favourite items
would have to be the accessories by Zinab Chahine with sarcastic Egyptian and
Lebanese phrases such as "Etfo 3alik" and "Egyptian haybosny" printed in Arabic
on bright coloured rings ranging from 50LE to 70LE.
Other accessories are available
by designers Tash, Loulisque, Yokiis, Bangles & more, as well as items from
Express and Primark. WeWood watches are also available as well as cute bikinis
and beach dresses.
A variety of shirts
and tops are displayed further inside. A white t-shirt by Nada Akram has Audrey
Hepburn with a pink bow in her hair and the caption 'I believe that happy girls
are the prettiest girls' (300LE); other portrait t-shirts have Marilyn Monroe,
Suad Hosny and Elizabeth Taylor. Another interesting item was a set of cropped
tops by Boho Sharky with an embroidered eye and moustache that give the image
of a man wearing a tarbouche (290LE).
Strewn about the
gallery are stylish bags, shoes and sandals. Colourful Boho bags are about
250LE and Boho clutches start at 120LE. Bags by L.mak, J-Rose, Naomi Hanem as
well as Michael Kors are also available. There was also a limited but nice
collection of ballerinas, sandals and flipflops by Atmosphere as well as other
European brands including a pair of cheerful orange sandals with a price tag of
190LE.
A separate room is
dedicated to dresses. Rafik Zaki evening dresses are on one rack, starting from
190LE; while another rack carries imported dresses from BCBG, Miss Selfridges
and Primark.
Boho Gallery is a
welcome addition for its wide-ranging collections and fun pieces, but mostly
for breaking the golden rule of shopping in Cairo by actually making good
clothes accessible and affordable, all in one place!