Catacomb: A Mixture of Handmade Art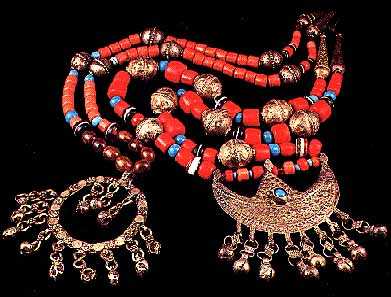 Hidden on a sublevel on a quiet side street in Maadi
Degla, Catacomb is a small, cozy and eclectic shop full of Egyptian-made
products. Whether you're looking to accessorise your room or add to your
jewellery collection, Catacomb might actually have just what interests you, and
it's all handmade!
Catacomb has quite an extensive and diverse selection
to choose from, with items that vary from vintage to modern art. Teenage girls
may enjoy the different jewellery styles that are made of silver, coloured
glass and all kinds of coloured semi precious stones that resemble Indian
jewellery, while adults will appreciate the wooden trays and mosaic tables.
The shop is not only managed by one person; there are
a few partners. Catacomb works with 150 different artists, some of which are
well-known artists and others are aspiring. They also work with NGOs and
schools from Fayoum. Items on display include handmade shawls by Rasha Gawad
from Asyut, who mainly focuses on Egyptian textures, patterns and calligraphy. For more info on her work, check out her
Facebook group.
The shop in itself is a small basement. Paintings are
hung up on the walls as you make your way down the stairs. Dim lighting and
warm-coloured walls give the interior a very welcoming feeling. Inside, there's
a variety of wooden furniture, including chairs, tables, drawers and couches.
The designs are versatile; they vary from Islamic to Indian styles.
As you
browse around, your eyes will fall on calligraphy-designed cloth, coloured
glass, moulded statues and a full stand of natural artefacts, such as: handmade
luffas, massaging oils and tools, and other scented oils. You can find Egyptian pop culture references on
coasters, trays and jewellery boxes. There are Souad Hosni imprints on some,
while others have prints of movie scenes from the 60s.
Jewellery varies from long necklaces and rings with
carved text, which are simple yet rich in substance, to more expensive jewellery
made of real stones. You will also find leather key chains, bags and little
small pockets for coins and other small accessories in African and Bedouin
styles.
There are all different kinds of oriental chandeliers:
plain ones with designed holes that seep the light through onto the ceiling;
hanging chandeliers with dangling coloured glass; and every other design you
can imagine.
Prices vary to make things affordable for everyone.
There are colourful and designed glasses for as little as 1LE, while jewellery
varies from 33LE to about 400LE, paintings start at 50LE and trays sell for
100LE upwards. Prices vary depending on the complexity of the design and the
material.
So whether it's jewellery, furniture, natural products,
candles, or home accessories, Catacomb is definitely a place to check out. This
can be a great place to visit when you want to buy a house gift for a friend or
a birthday gift for your mother. You will definitely find something to your
liking.