Catacomb: Environmentally Conscious Home Accessories in Maadi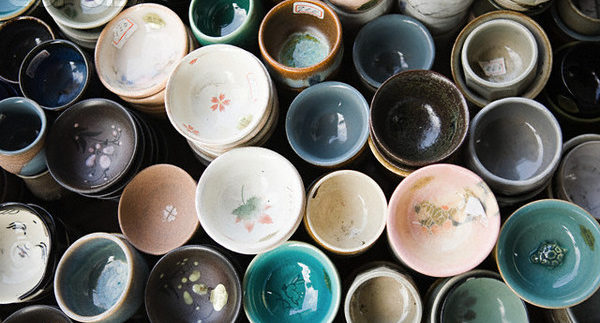 If you have a taste for the authentic, and
prefer a rustic feel to your home accessories rather than a glossy one, then
Catacomb in Maadi is a great spot for you to visit.
Located on the same road as Stavolta and La
Rosa, Catacomb is slightly inconspicuous, hidden below street level. Taking the
steps down, the space is nicely spacious once inside. With high ceilings and an
open area, it has a very raw feel to its interior, where the paint on the walls
is whitewashed, the flooring is rough stone and the order of items haphazard.
It is most inviting.
Catacomb is essentially a furniture and
home accessory shop, but with jewellery, bags and scarves, it offers much more.

A few stairs will take you further down
into the shop. The first of the sellable items is the artwork hung on the wall.
A mix of traditional styled pieces with abstract peasant women range between
4000-6000LE. We found two original caricatures by renowned Egyptian artist
Mohamed Abdel Moneim Rakha for a steep 10,000LE; some work by one of his students
was priced at 1,500LE to 3,500LE.
Displaying over 150 local artists, Catacomb
may truly be an underground art hunter's haven. Unique items like a coffee
table with abstract metal cut outs placed beneath the glass goes for 7,500LE
but is a special find – probably unavailable anywhere else. Other featured
designs are sticker tiles with oriental motifs coloured in dusty golds and
greens by Sherine Abdel Rassoul (70LE).

The management is also the first we've seen that is environmentally conscious. Leaflets on how to help the environment can be found laying around, while an initiative to collect glass and discarded wood from the streets to make trays is also underway.

Catacomb's items are considerably ethnic; they are
almost rough, though equally pretty. Trays with their signature glasswork inlay
go for about 350LE for a medium sized one. Painted pottery items are available
such as plates and bowls (60LE-100LE) and there are also larger serving dishes
with spiralled designs swirling into them.
There is a generous section of cups, plates
and glasses made of blown glass. Mostly in blue and green, each piece is sold
individually; a cup goes for 15LE.
The shop stocks a lot of lighting fixtures.
Ceiling lamps, floor and wall lamps can be found in abundance. A smaller sized stand-alone lamp, with an
inverted cone lampshade hanging from a curved piece of wrought iron, goes for
375LE, while wall lamps made of paper with different designs are for 200LE.
Some other wall lighting fixtures consisted of a metal box with a word cut out
for the light to shine through: for example 'hayah' or 'helm' which mean life
and dream.
Catacomb also has proper furniture pieces
such as tables, chests and chairs. A
chest of drawers designed with a protruding curve goes for 2000LE, while a De Stijl inspired table
is 650LE.
Other items include hanging mirrors
(850LE-2750LE), handmade notebooks (60LE-75LE), colourful cotton bags
(90LE-110LE), boxes with decorative designs (120LE), abstract statuettes
(450LE) and a selection of some interesting jewellery. Large rings with bulging
stones in different colours were very reasonably priced between 95LE and 125LE.
It would be difficult to list everything
Catacomb has available let alone do every item justice. It would take some time
to appreciate everything that's on display, so be patient and give it
sufficient browsing time. After all, with the range of prices from quite low to
considerably high, there is undoubtedly something for everyone.