Cavalli Corner Gallery: Pretty Egyptian Home Accessories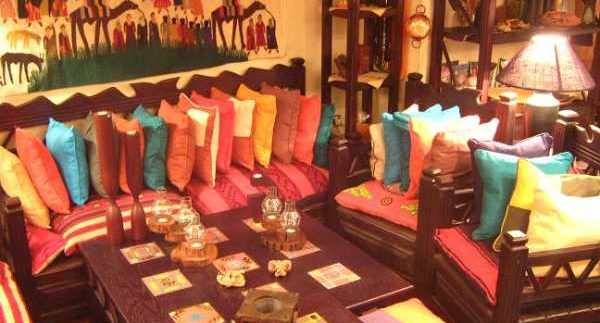 Every
now and then in Cairo,
you'll stumble across a tiny shop filled with everything you could possibly
desire for your home. Cavalli Corner Gallery in Maadi is such a spot. Home accessory fans will swoon at the store's display of simple wooden
furniture, colourful fabrics, Bedouin carpets, tiled mirrors and clay kitchenware.
The
major selling point of this shop is its reasonably priced and simple wooden
furniture: the bookshelves, TV table and low coffee table sell for an average
of 400LE; the latter comes with a tile in its centre with 'Masaa El Fol'
written in pretty Arabic calligraphy.
The
store also sells a selection of curtains in beiges and creams with red
calligraphy letters in the centre or butterfly prints covering the hems. A
corner of the shop carries cotton table covers, cushion covers, embroidered
shirts and a selection of woven bags.
The
highlight has to be the large, dark wooden bed (2250LE), prettily covered in
turquoise bedding (also on sale at the store) with a wide frame surrounding the
bed that can be used to rest your books on.
The
shop also sells different shades of khayameya-print material for a very
reasonable 15LE per metre, which is pretty much the same price you'd pay if you
went to the khayameya market in Khan Khalili or to Wekalet El Balah. The shop also
sells cushions covered in the print, as well as a set of cushion covers in
different sizes.
The
shop's prices are extremely reasonable: cushions range between 25LE and 75LE,
curtains start at 75LE, lamps average around 200LE and tables start at 275LE. A
wooden armchair with a thick Bedouin cushion will cost a very reasonable 750LE,
while the largest couch costs only 1650LE.
The
store also has a selection of wooden candle holders and beautiful little
lanterns, as well as a selection of tiled coasters, framed photographs and
pretty brass jewellery with semi-precious stones. All items are 100% Egyptian
and brought in from Siwa, Fayoum or Old Cairo.
Cavalli
Corner Gallery also customizes its furniture: wooden furniture takes between
ten days to two weeks to be made, while curtains and other fabrics take an
average of two days.
The
owner, Mr. Tarek, is genuinely friendly and will remember you if you
pop in more than once. Lucky regulars often get discounts or small presents
with their purchases, which only increases our need to constantly return to
this little gem of a shop.