C'est Moi: Affordable Gifts in Nasr City's Genena Mall
Genena Mall, 4th floor, 9 Al Batrawy St., off Abbas Al Akkad St.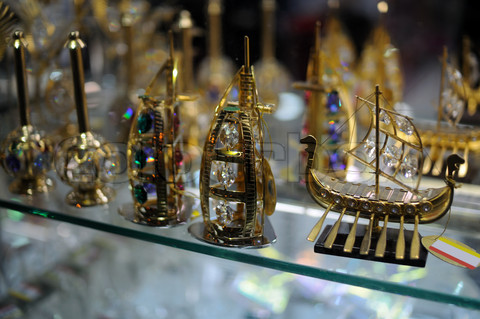 Cairo is
full of gift shops invading every mall, so it takes more than a few helium
balloons to attract this savvy shopper's attention. In Genena Mall, C'est
Moi definitely succeeds in doing so by having two branches in the
mall, crammed with every kind of gift from SpongeBob mugs to pure crystal
creations.
The shop's
branch on the fourth floor can probably fit only three people inside; so it's a
good thing that practically all the items are displayed in the window. What
first attracts the eyes is C'est Moi's collection of car banners and stickers, all
priced at 15LE and ranging from the funny to the romantic.
The neighbouring
watch stand displays generic plastic and leather watches ranging around 40LE.
There are also a couple of not-so-authentic Lacoste imitation watches starting at
60LE next to the crystal Asfour statues, which you wouldn't normally find in
ordinary gift shops. They vary in sizes as well as in prices, which can reach
250 LE for a medium-sized boat, while a four-carriage train costs 450LE. There's
also a crystal flower (250LE) with a desk clock inside available in light pink
and blue.
It's not an
exaggeration to say that items fill the shop from floor to ceiling. Even the
middle of the shop has cubical stands carrying woollen scarves with both narrow
and wide stitches, each for 35LE. The shop also stocks Ushas, an affordable
Chinese brand of makeup with blusher and eyeliner priced around 10LE.
C'est Moi is also full of home gift ideas,
traditional as they may seem but nonetheless practical. Inches away from the middle
stand; be careful not to kick one of the wooden arabesque vases (216LE)
decorated with Arabic calligraphy. Low shelves also display candles and
heart-shaped statues (100LE) in addition to ceramic mugs, wallets and shoulder
bags (25LE).
C'est Moi
makes a head-turning sight when you first see it; the tiny shop displays so
many unrelated gifts that it can be hard to take it in all at once. The shop's
window even displays standard snacks and candy bars! The quality of the items
is not superior to other gift shops in Cairo, but C'est Moi does stock plenty
of options to choose from.