Desigual: Life in Technicolor
CityStars, Phase 2, 2nd Floor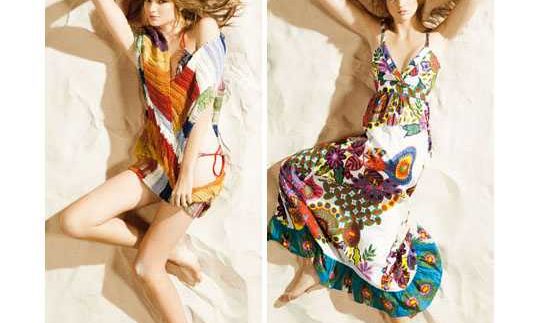 Just because Ramadan has
started, doesn't mean the summer has ended. Some of us are still heading to
Sahel, while the rest are trying to enjoy a hot summer in Cairo. What is there to do in the city before
fetar time? Checking out Desigual in Citystars is definitely a must.
International brand Desigual is known for its 60s retro style and
multi-coloured patchwork clothing. Founded in 1984 by Swiss national Thomas
Meyer with its head offices in Barcelona,
the brand aims at providing a different style of clothing.
At Desigual, the items are vivid
in colour and unique in design; they are meticulously patched and printed, and
vary in shapes. Located in Citystars' Phase 2 next to French Connection,
Desigual's staff are amiable, helpful and they don't follow you around like others
do. The shop itself is very colourful and hip, while the music playing
throughout the shop is loud and summery.
The colours used in Desigual's clothing
are usually a combination of warm and cold hues mixed together to create a look
that stands out with eccentric hippy-chic street wear style. The fabric designs
are quite atypical; while the garments are detailed with textures, colours,
forms as well as beadwork, embellished buttons and stitched patchwork.
Prices are quite high at
Desigual in Cairo compared to its branches in Spain.
For women, t-shirts are for about 495LE, while jeans overalls and jackets sell
for 900LE upwards. Bags range from 550LE to 1000LE, while belts start at 200LE
upwards and leggings sell for 215LE.
The men's section is a little
smaller than the women's and has less variety of clothes. For men, jeans sell for
about 950LE and shirts start at about 500LE. The kids' section was the smallest
area but had an extensive variety of trendy clothes for both boys and girls. For
girls, a jeans skirt sells for 400LE, a t-shirt is for 250LE and dresses sell for
about 450LE. For boys, a t-shirt starts at 250LE and trousers are for 450LE.
So if you're in Citystars
and want to keep yourself busy during the day, drop by Desigual to check it out;
but be careful not to get too excited and spend all your money at once. Enjoy
the beauty of colours.