Divine Crystallized Energy: Mystical Powers of Stones in Zamalek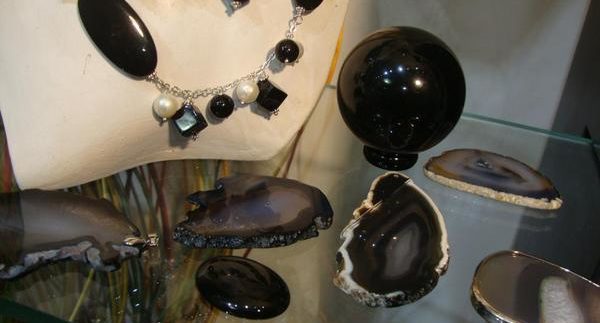 On a quiet corner, just behind Diwan just
away from the hustle and bustle of 26th of July Street in Zamalek, lays
the Divine Crystallised Energy jewellery shop with stands displaying different
designs of necklaces, earrings and bracelets made up of all sorts of stones and
crystals such as garnet, amethyst, emerald, pearl and turquoise.
You enter the shop to find its owner
fiddling with stones, making new pieces of jewellery. She will welcome you in, take you on a tour of
the shop and introduce you to the names of the stones. But not only that, she
will also reveal the secrets of these gemstones to you.
Apparently, each stone has its own healing
properties for certain ailments such as migraines, joint pains and even
hormonal stability for peace of mind and tranquillity. No, this is no spooky
medieval charm; this is the science of Gemology. It is a science that deals
with natural precious and semi-precious stones, the knowledge of their chemical
constituents, physical and optical properties and their proper benefits to man.
Gemstones and crystals are made up of earthly
chemical components like magnesium, silicon and zinc, which are also components
of medicine sold in pharmaceutical drugstores; meaning they extol their healing
properties without having to ingest them.
It is claimed that not only do the
gemstones have chemical properties, but they also work on four different
levels: spiritual, physical, mental and emotional. Leaving Gemology aside, she
believes that the precious stones also have cosmic energy forces which in turn
stimulate your energy forces either negatively or positively.
Although it was a somewhat eerie experience,
it was very interesting at the same time. Even if you don't believe in all the
above, the shop owner lets you read from her books about all the facts of the
chosen gemstone and she will test your energy level and how well it works with
you or not. She will even tell you how to wear the stones; either as a necklace
or a bracelet depending on the points of your body that will ease off pain. It's
a complete guide to the stone and you!
Price wise, bracelets range from 50LE to
250LE and necklaces range from 150LE to 450LE, depending on the kind of
precious stone pendants, clusters of stones and the shape and size Additionally
you can ask for a special design to be made which she is ready to make while
you're there, chatting away in this mysterious world of gemstones.