Diwan: Bookworm's Delight
Books & Stationery,Entertainment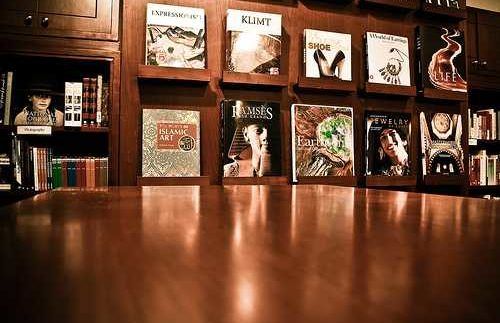 Diwan was a
revelation when it first opened in 2002 and offered both Arabic and English books
in a boutique atmosphere. Warm and
inviting, the well-designed shop
includes a café in new bookstore fashion, and it's nice to just linger there even
if you're not in the market to add to your collection of books.
Showcasing new
titles, bestsellers and sometimes art in the foyer, the bookstore's entrance leads
to the multimedia section on the left, which is well-stocked with classic
Arabic and English DVDs and recent releases. The section also carries a wide selection of
both Middle Eastern and world music; including albums by Nasseer Shamma and the
Buddha Bar collection.

The right side of the bookstore holds a collection of local and imported specialised stationary such
as Moleskine day-planners, Hani Mahfouz Designs notebooks, bookmarks, cards, calendars, photo albums and funky
wrapping paper. Their recently opened stationary store, Qirtassiyat, also on 26th of July Street, offers a wider selection.
The centre of the
shop holds the classically-styled, dark wooden bookcases and stacks, as well as
their café. The book section is visually
attractive and makes for a relaxed browsing experience, while two comfortable
armchairs offer a quiet reading space.
The store's book collection is quite varied and available in four languages: Arabic, English, French and German, across several genres
including Arabic literature, art & design, cookery, history & politics, mind, body & spirit, and reference & dictionaries. Egypt-specific titles
are a standout in various formats, especially coffee-table volumes and historical
books. English paperbacks start at around 70LE, while hardbacks usually start at 120LE.

The small children and teen's section is supposedly the largest selection of children's
books in Egypt, though it's really just a nook in comparison to both Shorouk's
Zamalek and Mohandiseen locations, which have entire rooms dedicated to children's
books.
The café is also
tiny and slightly awkwardly centred, but it offers a nice refuge among pensive
browsers with homemade carrot cake and decent coffee. A small collection of
cooking and diet books are stacked next to the tables, including an adequate
selection of BBC Good Food series and a few of Jamie Oliver's books (ranging
between 60LE and 150LE).
Diwan also offers
home delivery, book-binding, free special orders, gift-wrapping, gift vouchers,
loyalty cards and a used book exchange. The bookstore hosts events at least
once a week, including book launches and author signings as well as children's
storytelling. There is even an online
book club community– join their mailing list to get all the latest details.