Ego: Designer Clothes Surplus in Heliopolis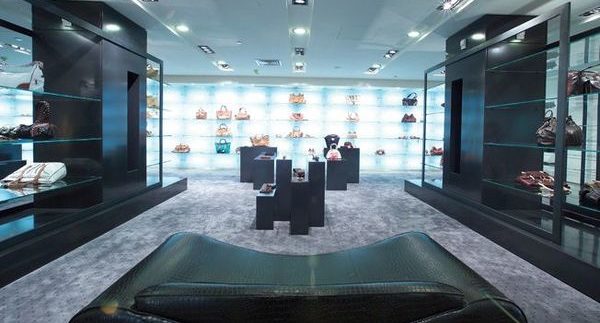 On the busy El Orouba Street, hidden behind a tall, towering white wall and sliding gates, is the impressive and intriguing shop, Ego. As you park in one of the limited spaces in the private driveway, just in front of the building, you immediately get a feel of exclusivity. Large, contemporary flower-pots separate a small outdoor seating area from the wooden walkway up to the gleaming glass entrance.
Greeted with half a smile and a slight air of suspicion, the shop assistants began following us around the immaculate shop in their spotless suits. We drifted through the ground floor in wonderment, taking mental notes of all the gorgeous designer handbags, pretty clutch bags, purses and stunning high heels on display. On our wish list is a big, beautiful, quality YSL handbag (16,160LE), a glittery Stella McCartney clutch (5,770LE) and a pair of Jimmy Choo shoes (4,740LE)
–
and that was just from the first section.
Ego also stocks a selection of charming Parisienne 'Bobbies' slip-ons for around a relatively more reasonable price of 1,200LE.
We headed down the stairs into the men's section, appreciating the quality of the formal suits, shirts, trousers and all the add-ons. There is also a large, shiny shoe section, selling everything from casual Armani loafers to classic, leather Hugo Boss brogues.
Upstairs, there are three more floors dedicated to men's wear – mainly casual designer clothes. We noticed an enormous collection of Ralph Lauren garments; jumpers, cardigans, polo shirts, t-shirts and so much more.
Beginning to feel a bit hard done by with the lack of space dedicated to women's clothes, we eventually clambered up to the top floor to find a room full of dresses. As high-end and expensive as these were, we didn't think any of them were special enough to spend several of thousands on, which was confusing given that everything in the men's section seemed so carefully picked.
Turning to leave, the stalking shop assistant informed us that the layout of Ego is deceptive and, much to our excitement, there were in fact three more hidden floors in the basement, overflowing with all the couture outfits a girl could ever dream of. In the middle of it all, we spotted an in house tailor, ready and waiting to attend to any alteration needs.
There's also a limited children's section which stocks, amongst other brands, Baby Armani, tiny Ralph Lauren dresses and mini blazers.
This unique shop offers an agglomeration of designer labels at rather extravagant prices. However, it also offers a pleasant and enjoyable shopping experience which is more likely to boost your ego, rather than damage it.