Egy Puppy: Pet Supplies Haven in Maadi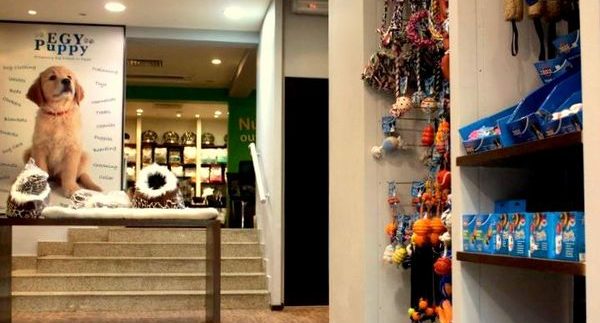 Cairo is
home to a zillion cats and dogs (that's an accurate estimate, by the way). Most of them are quite unfortunate and
have to scavenge the streets looking for food and generally live a hard-knock
life. Some are luckier and have a house
to call their home where they are fostered and spoiled by their owners. Egy
Puppy caters to the latter and is a top pet supplies store.
The
Maadi Degla branch is located on Street 233 and can be spotted from
afar. The bright lights (the only ones in the whole street actually) and bright
blue logo will immediately attract you to the shop. Naturally, we were a bit disappointed that there were no actual puppies, but prospective dog owners can find help
as the shop can provide you with puppies from knowledgeable breeders.

The shop is
divided into four sections. The first part is dedicated to toys of all kinds
and supplies like medications and puppy diapers. It's also here where you can
score a toothbrush (20LE) for your dog. The toys vary from regular squeaky toys
(between 35LE and 50LE) and the higher end toys such as a Pumbaa toy (the
lovable warthog from The Lion King) that makes actual hog sounds for 110LE. If you're looking for a raincoat
for your beloved four-legged critter; you can score one here for 150LE. Sweaters are a bit more
expensive at 200LE.
Egy
puppy is a paradise for leashes. You can choose from lots of different colours
and patterns. Most of them are around 120LE. Leather collars and leashes are a
bit more expensive starting at around 170LE. You can also get a harness (330LE) and muzzles
(160LE). In the middle is a high table with a pillow where you can sit your dog
while trying on various leashes.
Past the toys and accessories is the
nutrition department. The first part houses food experts who can advise you
on your pet's nutrition. For instance, if you pet suffers from obesity, they
can make you a food and workout program.
The food
department in the back is very extensive and has food for literally every kind
of dog and cat. There is special food for every breed. For instance, there is food for different breeds – 3 kilos of
food for a grown up golden retriever is 190LE- and also specific food for puppies and new mothers. Impressive, right? Wait; there's more. If you have a Yorkshire
terrier who is suffering from hair loss then rejoice because you can buy
specialized food here for it too. Most of the food is from the brand Royal Canine,
and prices vary depending on the kind.

Cat food is also available. Next
to the standard Meow mix you can also get food especially for show cats. Yes, that's kitties who
participate in beauty contests. At 50LE for 1.5 kilos it's actually rather
cheap compared to others brands. You can also buy some treats for your cat from
40LE such as heart or stick-shaped chewable goodies. Besides the regular ones
you can also get diet candy.
For
those monsters that hate animals and want to keep them as far away as possible;
there's something here for you too. A bottle of Animal Stop is only 18LE. Spray
on the surface of areas that you don't want pets to sully, or rub it on yourself (we
don't recommend this of course). But for all animal owners out there, Egy Puppy is
an absolute haven for pet supplies.