El Nomrossy: Buttons and Sequins and Lace, Oh My!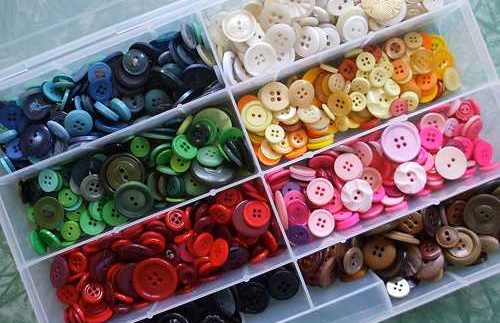 If the
thought of feathers, sequins and lace appliqués leaves you reaching for your
sewing kit instead of running for the nearest exit, please read on.

Nestled in
the heart of Mohandiseen's crowded Shehab Street, El Nomrossy is a tiny
blink-and-you'll-miss-it store between Kabnoury and a rather decrepit-looking
cake shop. The narrow t-shaped interior is flanked by display shelves on either
side that carry jars and jars of sequins, gemstones, beads, coins, diamantés
and many other shiny things that will make you happy. Sequins and gems are sold
by the gram; sequins start around 0.25LE, while gems start around 2LE per gram.

Fake silver
and gold chains hang from the ceiling next to oversized necklace beads in a
rainbow of colours. Further into the store, you'll find zippers in all colours
under the sun, and metres of lace. Boxes of appliqués line one side of the
wall, where you can pick up beaded and sequined patches. Then there's a whole
line of flower appliqués ranging from the small and inconspicuous to the large
and Liza-Minnelli-On-Broadway types, glitter and feathers et al. An appliqué
averages 5LE for the small sizes.
At the end of
the corridor lies a small haven for buttons fans (yes we do exist). The entire
room is lined with boxes carrying buttons in all shapes and sizes. Whether it's
large golden buttons a-la-Versace-circa-Gianni that you seek, or understated
ivory buttons; El Nomrossy pretty much has it all. Buttons sell from 2LE a
piece to 15LE a piece for the embellished diamond ones. Try and resist their
metres of ribbons in satin, sequins, lace, gauze or polka dots. They also stock
tulle in basic colours, as well as tulle with glitter and sequins sewn in.
Ribbons start at around 0.50LE per metre, while tulle sells for 2LE upwards per
metre.
If all this
can't satisfy your salacious need to trim, sew and customise; the store also
sells feather boas in black, red, white and blue, as well as your basic sewing
kit needs: pins, safety pins, and thread in all colours, fish hooks, chalk,
necklace clasps and glue guns.
While several
of the sales attendants are the most hostile and blasé we've met in Cairo, it's
best to do your own thing until they put down their sandwiches to notice that
you exist. Dropping a huge jar of sequins always works.
As cheap as
everything sounds; be warned that it can toll up to quite a sum if you're not
careful. A bunch of buttons and a few metres of material can easily reach over
100LE. However, if you're lucky and the jovial store owner is there; use your
charms and you may get a reasonable discount on your purchase. While it
definitely doesn't equal the market experience of shopping at El Mosky or
Zan'et El Setat market in Alexandria, El Nomrossy's accessibility makes it a great last-minute
stop for glamming up any outfit.