Fair Trade Egypt: Handicrafts From All Over Egypt in One Zamalek Shop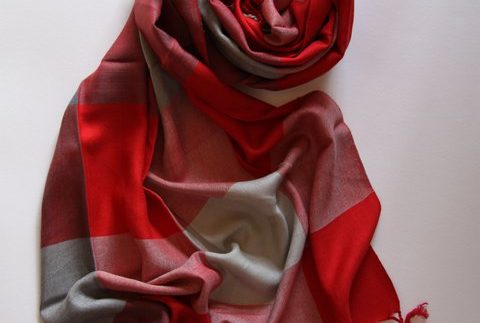 Located on a side street near L'Aubergine, Fair
Trade Egypt hides away on the first floor of a building in Zamalek. In an area
that cannot seem to get enough of boutique shops, we decided to revisit Fair
Trade Egypt to see if it can still hold its own.
The first thing
you'll notice when you walk in is the selection of textiles; from simple scarves
to authentic galabeyas and colourful tunics to drawstring trousers and dresses –
all pieces are unique and often include simple embroidery. Many of these are
one-off items – making them rare and precious treasures to own. Prices range
from 30LE to 65 LE for scarves, 140LE to 200 LE for tunics and 170LE to 200LE and
upwards for galabeyas and dresses.
Akhmim bed covers
offer a cheap and simple addition to your bedroom and range from 123LE to 220LE.
Colours are mostly subtle and a variety of sizes are available (single, double,
Queen and King sizes).
A selection of
handbags and purses are scattered throughout the shop, ranging from drawstring
cloth bags to leather Sami-Amin-style purses. The leather purses and copper
accessories are not very unique, since similar designs can be found elsewhere
around Cairo. Jewellery and accessories range from bright beads (25LE-50LE) to
copper earrings, pendants and rings (20LE-40LE); these accessories can be
authentic little trinkets or a quick fix for a simple outfit.
Buffalo horn
accessories from Behera include little statuettes made by local communities to
ensure that all parts of the animal are used; fish, camels, kangaroos,
dolphins, mermaids, elephants and turtles are hand-carved from buffalo horns and
are imaginative in design.
Handcrafted pottery
from Fayoum is perhaps one of the real treasures of this place; the selection
includes a range of cups, fruit bowls and plates of all sizes, vases, coasters,
trays, and other kitchenware, each piece tells a different story. Designs range
from colourful to subtle; some are inspired by nature, with animals and birds
adorning large serving plates, to the more traditional swirling designs on
fruit bowls. One thing is certain: no two pieces are the same. Prices vary from
as low as 8LE for a coaster to up to 200LE for a plate or bowl.
Nubian baskets
(23LE) are hung on the walls, bringing colour and culture to the shop and can
be used functionally or simply as accessories in your home. Klims woven by
Behera women come in a variety of sizes – from small runners to large rugs and
range from 35LE to 400 LE.
Wooden kitchen and
home accessories from the Hegaza woodcraft workshop are inspired by Ancient
Egyptian themes, including keys of life, lotuses, scarabs, Horus' eye and range
from 17LE to 90LE. Kitchen accessories include spice grinders, salad bowls and
cutlery ranging from 60LE to 200LE and above.
Last but not least,
Fair Trade also holds a selection of cards made of recycled paper as well as
goods from the Zabaleen recycling community – another quality to add to the list of things that make this boutique shop truly special.