Flower Power: Stunning Flowers, Disappointing Shop at Downtown Katameya Mall
Downtown Katameya Mall, Shop S 1-15, Area A-City Center, Road 90, Fifth Settlement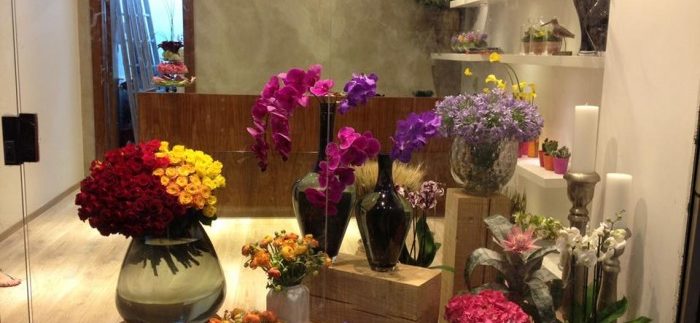 Flower shopping in Cairo can be a troubling feat, especially given the large number of decidedly mediocre florists in the city. Catering for some of Cairo's most reputable hotels, including the Dusit Thani and the Four Seasons, Flower Power specialises in impressive, fresh flower arrangements for homes, events, offices and basically anything you need it for.
With their head office located in Mohandiseen, we visited one of their few retail branches at New Cairo's Downtown Katameya Mall. With the shop assistant's lack of English – and our lack of Arabic – it was a little difficult to communicate, but we struggled on nonetheless.
Unfortunately, the tiny shop space doesn't do the brand any favours; the meagre display of fresh flowers small enough for a bouquet was disappointing and, at around 10LE per stem, putting together our own arrangement on the spot was not an attractive option.
However, offering a taste of their full-collection, giant stems of curled bamboo, hot pink lilies and white arum lilies are amongst the more exotic options. Presented in attractive, over-sized glass vases, these were disappointingly not for sale, but were an example of the types of vases available.
With a workshop in the back, a number of flower arrangements were finished and awaiting delivery. A large, eye-catching table-top display of bright yellow and orange flowers would cost around 500LE; such arrangements can be tailored to the customer's specific taste and occasion.
Sadly, no catalogue was available to browse through and, unless a consultation is arranged, only vague price ranges are available. Usually, the flat screen TV in the store shows a rolling slide-show of options, but at the time of our visit, this wasn't working either, leaving us a little clueless as to the available options. We were directed to their website with promises of prices and further details, however, only photos could be found.
More suitable for events, the finished products seen in hotels and at weddings are undoubtedly of unrivalled quality and design, as well as beautifully fresh. Scheduled, regular re-deliveries can be arranged to ensure the ultimate freshness of the bouquets.
Having seen Flower Power's displays at said hotels and events, we know the quality of flower arrangements is unquestionable. However, had we not done our own research, the small shop would have left us with quite disappointed.