Fratelli: Top Shoe Brands at Citystars
Citystars, Floor 2 Phase 2, Omar Ibn El Khatab St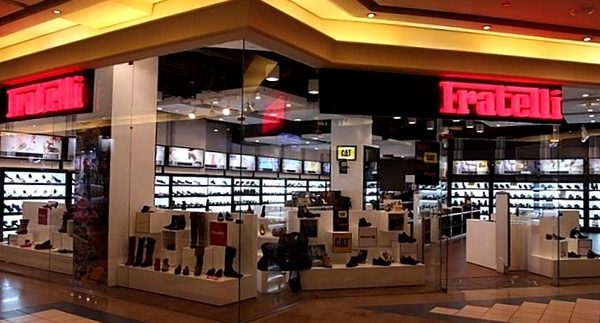 Located on the second floor of Phase Two in Citystars, Fratelli is a large shop perched on a corner and is hard to miss – especially with the display window showing off its varieties of women and men's shoes. Although not an extensive collection, their quality is immediately apparent and will likely draw you in to see what else the shop has to offer like it did us.
Stepping inside, you'll find all the walls filled with choices from floor to ceiling. Stands in the middle of the shop carry even more items to choose from. A range of classical and casual models are available, in a variety of colours, as well a selection of slippers, sandals and accessories.
Caterpillar shoes can be found in Fratelli, in both their newest models as well as older ones from over the years. Classic models, made of leather or suede, range between 500LE and 650LE. The newer designs – such as the more hefty 'safety' Cats, are a little more expensive at 650LE-800LE. There are some more casual models that are lighter and less imposing, available in several shades of beige and brown. Bright coloured sneakers can also be found for 400LE-500LE.
Another big brand sold at Fratelli is Merell; specifically made for rocky and rough terrains. Although strictly of the casual kind, they come in a nice choice of colours and exude a style very specific to the brand. They are priced at 500LE-800LE, though there were some discounts at the time of our visit; we found pairs for 300LE.
If you're looking for simple, black, classical shoes, there are several Sebago models on offer. Sticking black and brown, they come in leather, suede or fabric like espadrilles; a pair will set you back between 390LE and 500LE.
Shoes by Brazilian brand, Sapatoterapia, stood out for their undeniable comfort. While at first glance they seem like any other shoe, a closer look will reveal signature stitching. Their prices are similar to everything else available, with a pair going for 500LE-700LE.
The women's section is less impressive than the men's, or maybe that's just an observation made from a male perspective. Among the things we did notice, a pair of trendy-looking slippers came at 350LE, which we found to be a little steep. Boots and shoes are priced at 600LE-700LE, similar to the men's.
The nice thing about Fratelli is the availability of shoes sizes and choice of colours. No matter what you have in mind, you are more than likely to find exactly what you need.