Ganoob: Zamalek's Hidden Treasure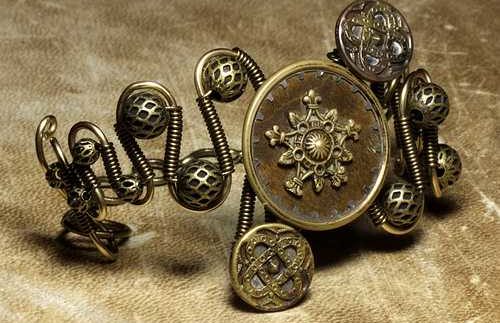 Zamalek is
known for its many stylish boutiques selling clothing, gifts and home
accessories. One such shop is relatively
new and surprisingly has kept itself under the radar. On Yehia Ibrahim Street, Ganoob fits a lot of
character into one tiny shop.
The first
thing that you notice in Ganoob isn't the beautiful, handcrafted jewellery
cased in glass; rather it is the store's interior design. Ganoob resembles a provincial
mud hut with cubbies carved out of the textured taupe walls. The dirt floor with
inlaid flat rocks would be reminiscent of a patio if it didn't feel more like
art: large brass discs and tiny tin strips are strewn around, giving the store
an earthy, funky and truly unique foundation that sets the scene brilliantly.
Much of the
modest-sized ground level is devoted to jewellery. Semi-precious stones and bone, glass and
metal beads are combined for one-of-a-kind statement pieces. Many of the
larger, more intricate necklaces are displayed under glass, but a few sets are
on open display, such as a string of purple agate with matching earrings for
600LE. The jeweller's fondness for unique creations is obvious. A beaded
necklace featured a large, round and intricately carved metal charm at its centre,
which is a traditional Yemini nose ring according to the small note next to the
piece.
In fact, the first floor of the
store feels a bit like a museum, because of the rare individual pieces along
with the many note cards explaining the jewellery's materials and their
origins. Despite the informative descriptions of much of Ganoob's merchandise,
the prices of the jewellery cannot be found without asking one of the store's
two very friendly owners.
A winding
staircase leads you to the upstairs of the shops where you find that Ganoob is
about so much more than funky jewellery. A group of floral printed canvas and
leather purses (350LE) hang from a coat tree. The back wall is brimming with
cool cottons by NK Collection. The luxuriously soft fabric with a bit of
stretch is available in a number of colours and designs, including wide-strapped
tank tops for 150LE, summer dresses for around 300LE, yoga trousers and
more.
Nearly hidden behind a large
hammock are a collection of abstractly painted ceramic dishes. One in
particular, painted grey and red cost 295LE. Everywhere you look on the second
floor of Ganoob, there is something artsy, interesting or antique; a beautiful
brass tea-pot (350LE), a herd of about eight wooden elephant statues,
decorative pillow cases embellished with beads.