Gerry Weber: Quality Clothes for a Mature Shopper in Heliopolis
CityStars, Omar Ibn El Khattab St.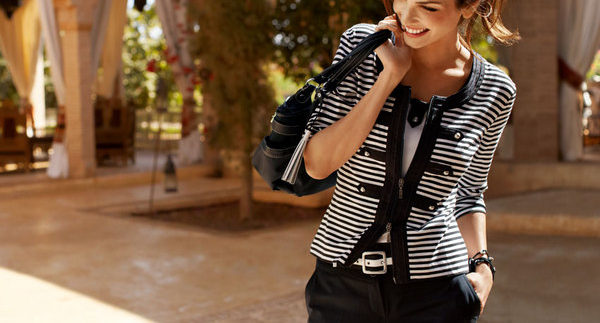 It's a small world,
the one we live in. It's even more globalised when it comes to fashion. That's
why when German fashion label Gerry Weber opened a shop in Citystars, the
last thing you'd expect walking into the spacious, well organized space is to
find a wide array of mostly outdated styles of blouses and skirts.
Most of the clothes
lean towards a more mature ladies' style, with puffy half-sleeved jackets and
below knee skirts, call it the 'Pretty Woman era' of cuts and fabrics, which
still appeals to some people, we're not judging, but it's hard to explain the presence
of a black and white chiffon blouse embroidered with the shiniest silver
spangles – especially at a 1090LE price tag.
The racks are
categorised according to colours; first, as you enter the wide space of the
shop, the majority of the colours range between black, white and yellow. A
printed yellow blouse (545LE) strives for a vintage look, with a washed, sepia
coloured print but despite the good quality of the fabric, the design of the
print does it no favours at all. Yet a quite hip sleeveless long dress printed
in the same washed shades, this time of grey and pink (1765LE), is suitable for
an afternoon out and is probably the most modern piece in store.
The staff are pretty
helpful with what you're looking for, whether it's a different size or colour,
and the fitting area is comfortable with bright lighting and ample room inside.
The thing is however, the shop contains only a few items that are likely to
catch enough attention for further inspection. One that definitely does so is a
pair of bright orange boot cut trousers (1090LE) which, among the traditional, more
classic outfits, stands out as brightly as its colour.
Gerry Weber features a
nice collection of scarves in many shades and styles from printed to colourfully
striped ones. One in particular had a relaxing hue of pinkish grey (545LE).
Though their scarves are nice to look at and would definitely add a chic twist
to a simple outfit, they are overly expensive with a 490LE price range on
average.
The clothes at Gerry
Weber, whether it is a short-sleeved jacket or a long skirt, are of impeccable
quality; their cuts, use of accessories and embroidery differ a great deal from
what you usually see in other shops. The high prices however, might not give Gerry
Weber a chance among the fearsome competition of the ever growing shopping
scene in Citystars.