Glitter: All that Glitters is Not Neccessarily Golden
Ramses Hilton Commercial Annex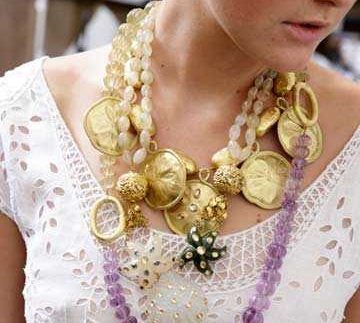 We all know that the right
accessory can transform an outfit into an ensemble; a piece of statement
jewellery speaks volumes, while a funky clutch can really carry your look. Of course, with accessories, the design is all
in the details.
Unfortunately for Egyptian
accessories brand Glitter, many pieces make the wrong statement. Entering Glitter in Zamalek feels a bit like
descending into sugar shock. The store
is organised by colour, one bright hue after the next. Everything is sparkling, either from an
excessive amount of sequins or from metallic fabric. To the store's credit, they certainly live up
to their name.
Desperately needing a clutch
for a next-day formal event, the search was on for the subtlest item in the
store. Passing the pink section and the
blue section – each of which included a sizable collection of large beaded
necklaces, hair clips, headbands, and purses– the grey section promised
necessary neutrality. After examining
several shinier than necessary clutches, an understated clutch (99LE) of
textured matte fabric proved to be the worthiest option.
At just under 100LE, this
clutch was certainly not expected to be the most durable of bags around; but it
seemed to be a reasonable amount for a clutch that would see occasional evening
use. We presumed the new purchase would
perform the basic duties required: to hold small items, and to open and
close. Unfortunately, that wasn't in the
plans for this newly acquired handbag.
A couple of hours after
purchasing it, the brand new bag wouldn't pop open. Needless to say, it took a
butter knife and some determined prying to finally gain access to the contents
of the purse.
Unless your purse needn't
ever be opened or closed with ease, Glitter is decidedly not Cairo's best
option for handbags. However, their
selection of costume jewellery and hairpieces are relatively inexpensive– most
items falling between 50LE to120LE– making Glitter a fine location for colour
coordination to a tee.