Hamdy: Glass and Metal Work for the Home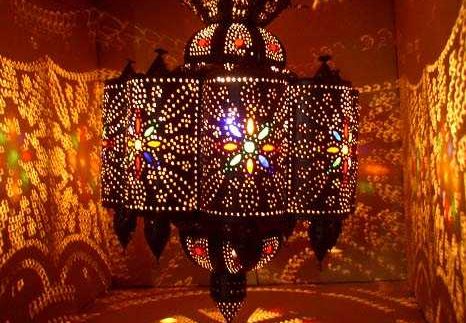 Road Nine in Maadi is no
trendy shopper's paradise, but it does boast a few colourful shops with a
flair for over-the-top knick-knacks, questionable antiques and hardware stores.
Recently, we've found a whole new reason to make our way out to the tree-lined
Cairo suburb: Hamdy is a small glass and metal-work shop located between Mermaid
and Beano's café. Located a step down from street level, the shop can be hard
to miss to the untrained eye, with nothing more than a few baskets of glass
ornaments and, on most days at least, a lounging shop-keeper to mark its
entrance.
Inside, shoppers are
bombarded with a floor-to-ceiling display of every sort of oriental lamp,
glass, ornament and bead that that you could possible cram into the small
space. One wall is lined with lanterns made from recycled sheet metal and
coloured recycled glass; these are of the same variety found in many stalls in
crowded Khan
El Khalili, but these exhibit some sturdier craftsmanship and a larger
range of sizes. Insert a votive candle, and the light casts pleasant shadows.
Small lanterns begin at 25LE and range up to 75LE for the taller, more ornately
trimmed metal frames.
The opposite wall is
absolutely packed with rows of thick coloured glass cups and drinking glasses;
plain blue coloured glasses are priced at 10LE per piece, while prices increase
for glasses decorated with multi-coloured flowers and some loud symmetrical
designs. Plates, saucers and hanging globe ornaments are also on display and priced
between 15LE to 25LE.
The shop's single counter
is laden with small baskets bearing hand-blown glass beads, from opaque daisies
to translucent teardrop shapes, which are fastened to the rims of metal lamp
shades to create a delicate fringe effect. For more home accessories, keep your
eye out for the door curtains – around 100LE – made out of opaque
purple glass beads strung along a sturdy thread. The curtains could easily
accent any bohemian interior.
Despite specialising in
glass craftsmanship, we were most taken by the store's delicate metal
lampshades. These are displayed in abundance on shelves, ceiling and lamp stands
throughout the store's small radius. Thin silver-sheet metal is shaped into
small rounded and pointed globes (starting at 125LE) and decorated with
pin-prick patterns. Some are decorated in symmetrical shapes or Arabic
calligraphy, while others are entirely dotted with small holes to let the light
of a 30-watt light bulb cast enchanting patterns across a room.
The smaller designs make
better night lights than reading lamps. One in particular caught our attention:
the lamp was crafted in a larger-than-life light bulb shape, complete with a
base made to look like a screw and decorated with a pin-prick pattern for those
wishing to light up a space with a little humour.