Hebz Boutique: Rainbow of Jewellery & Accessories in Giza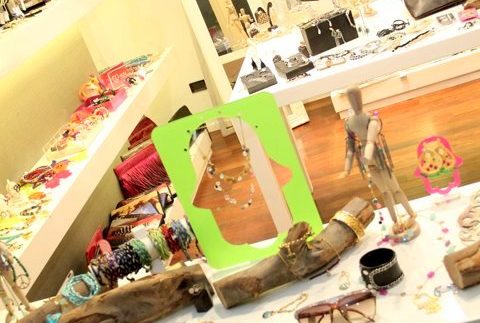 On the second floor of the classy First Mall, in the Four Seasons Hotel in Giza, Hebz Boutique demands attention with its glass front showing off an assortment of vibrant products.
Designer Heba Elawadi opened Hebz
Boutique earlier this year after numerous celebrities began wearing her designs. A
lthough it's just a small shop, it's packed with an array of hand-picked, multi-brand items; jewellery, handbags, shoes, accessories and a small collection of women's and children's clothes.
In the middle of the shop are two, large, glass-topped tables displaying bright, funky, fashionable bracelets. Many are made from material, beads or leather, customised with neon pendants in the shape of skulls, peace signs, hearts and the famous Hebz hand. There are also some colourful, felt earrings, embellished with large gems, different from any we've seen before. Although a little pricey – at around 450LE – a unique pair of these, in our opinion, could be both dressed up or down and would ensure you stood out from the crowd.
Hebz also stocks jewellery for special, formal occasions when it is imperative to sparkle the most. A very large, gorgeous pair of dangly, diamanté ear rings caught our eye and cost around 1100LE. However, a slightly less imposing pair were priced at a more reasonable 440LE. There is also a range of necklaces and rings, some flashy and dazzling and some more subtle and delicate, to complete any set of bling. A small but glitzy pair of stud ear rings for everyday wear was priced at an attractive 180LE.
Under the centre tables is a medley of Safir, leather ballet pumps in a multitude of colours and summery, rubber, peep toe shoes, again decorated with gems (350LE-550LE). A pair of Safir ballet pumps would set you back up to 440LE – they did look like they were good quality and we're guessing they must be extra comfortable.
It appears that Elawadi has a good eye for handbags too, stocking large totes, exclusive Moni&j, snake-effect bags and smaller clutch bags. A stunning leather clutch with chain detailing costs around 1900LE, whilst a simple one with neon edges is priced at 500LE.
If all this wasn't enough to gain a celebrity fashion status, there are a few pairs of designer sunglasses for sale, ranging from 1400LE to a whopping 5100LE.
We also spotted a few other things such as novelty t-shirts, children's clothes, iPhone covers, candles and incense, although the main focus of the shop is on jewellery and accessories. The lone shop assistant was pleasant and unimposing and appeared to be happy to help.
Hebz Boutique is neither unnecessarily expensive nor cheap and the designs are quirky, unusual, hip and trendy, and there appears to be an ample amount of sparkle and jewels for every occasion. Pop in to the First Mall for a sassy shopping experience and kit yourself – or a friend – out with some cool, Hebz accessories.