Home & Beyond: Artists Customise Eclectic Nostalgia
17 El Mansour Mohamed Street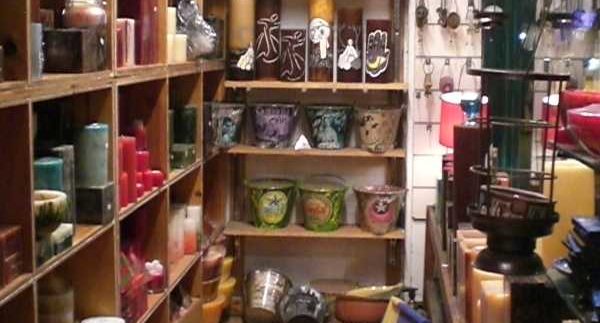 Celebrating all things old
and hoping to revive Egyptian nostalgia, Home & Beyond is a home accessory and
design buff's dream. Pursuing 'crazy
ideas' and seeking to 'do something different', the Zamalek store has become a
favourite among all those who have sensed the need and are craving the
same.
Offering an impressive array
of candles from their own factory, paintings by their resident artist Nesreen
Geweed, wood-backed classic movie posters, organic bath products and imported
French loungewear; the shop specialises in a varied and intriguing mix of customisable
comfort fare.
Their candles come in a wide
range of colours and sizes, both scented and unscented, and are decorated with coffee
beans, flowers, and various other natural touches. Paintings are mostly Bedouin-themed and match
well with their other Bedouin-influenced knick-knacks like dolls and camels.
Their classic movie glamour
shots and posters have become somewhat iconic, though a bit pricey at 100LE; and
you can ask them to customise one for you if they haven't got that particular
pic of Omar Sherif that you're dying for. Mugs are likewise customisable, including a funky design of Oum Kalthoum
that doesn't look quite dishwasher-friendly but is fun nonetheless.
Pampering essential oils,
aromatherapy, incense, solid perfumes and organic bath products are also a
rarity in Cairo
and a treat. Home & Beyond takes pride in the high quality of these goods, some
of which are imported from France. They even carry a small selection of cute and
cosy French clothing – mostly expensive sleepwear and bathwear.
Look out for the colourful
blankets, journals, glassware, jewellery, bags and even vintage newspapers that
are apparently in quite high demand. Other
old items include photographs and even antiques, from grand chandeliers to
prized 1940s lace curtains going for 3000LE at least.

What's especially cool about Home & Beyond is that almost everything in the
store is customisable with pictures, text, size and colour. Ask them and they will almost certainly have
it done. Most of their items are handmade
and it shows, which is great for creative gift-giving.
The store is open from
roughly 10AM to midnight, and for those who've got a hankering for arts and
crafts, they have even begun to offer painting and calligraphy lessons.

Sometimes feeling like an artists'
collective, Home & Beyond is taking local, Egyptian-made creativity in a
refreshing, celebratory and accessible new direction.