Hyper1: 6th of October Hypermarket Offers Cheaper Groceries
6th Of October Entrance 1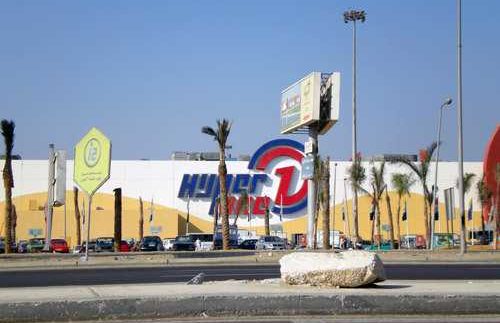 What's in a name? In the case of 6th of October's hypermarket
Hyper1; everything. Extremely
overzealous (we may even call them hyper) customers in Cairo get really excited
about buying nearly anything imaginable– from groceries to furniture– under one
roof. Hyper1 represents Egypt's
love of consumerism in full force.
Before you even finish crossing the massive
parking lot to make your way into the gigantic building of groceries,
furniture, clothes and more; there is already an opportunity to spend your hard-earned
cash. An ice cream shop and to-go crêpe
stand sit in front of the grand entrance. And since we all know that we are
never the types to pass on free food, the sample tray of fresh balah el sham is
constantly being refilled to whet our appetites before shopping inside.
The first floor of Hyper1
houses an incredible amount of groceries and cleaning supplies. Everything from
brillo pads in bulk to every scent of Dettol ever made is available and priced
cheaper than at most of Cairo's
supermarkets. Across the board, prices
are a few pounds cheaper on each product. Aisles upon aisles on the first floor feature
canned vegetables, dried legumes and pasta, as well as snack foods, baking products and dairy. Hyper1 also has a bakery, a butcher and a huge spice centre.
On the second floor, accessed
by a rather horrifying automatic escalator; toiletries and make-up, linens and
towels, clothing, power tools and home appliances are found. The second floor
is a bit more overwhelming because of this hotchpotch of merchandise. The linen section of Hyper1 is rather small
and the quality of sheets wasn't amazing, but a large selection of soft, fluffy
and colourful towels was available, with good quality bath towels priced at about
35LE.
A large section of the hypermarket is devoted to kitchen appliances
with a variety of price ranges on dishware, glasses and silverware. As always
seems to be the case, it is nearly impossible to find a decent kitchen knife; but
other cooking utensils are abundant.
In the walkway of the second
floor, a selection of indoor and outdoor furniture is available to those
looking to furnish homes on the cheap. To keep children from going too crazy by
running up and down the aisles of the store, a play centre for kids is
available; though it's not entirely effective at wearing out all the little ones.
If all this shopping has left
you a little spent, there are numerous options for a quick pick-me-up before your
drive home, including Pizza Hut, Hardees, Costa Coffee and Cilantro.