Ice-Watch: Durable Watches in Zamalek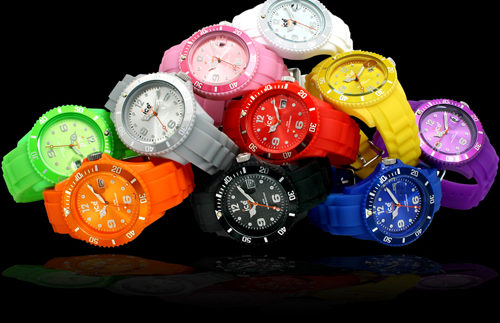 Just in case you
have been living under a rock the past couple of years, well consider yourself
seriously out of the loop because you missed out on all of Cairo's watch trends. Yes, that's right, watch trends. We went from wooden models to plastic ones to slap ons. However,
there is one brand that's managed to survive all these shifting trends and that
brand is Ice-Watch. Having been around for some time, they've recently opened
up their flagship shop in Zamalek on Taha Hussein Street; next to WIF and Munch & Bagel, across from El Yamama Center.
When you enter the
shop it feels as though you're walking into a spaceship. The cubic shaped walls
and ceilings are probably the cause for this. Throughout the shop there are various
display cubicles carrying the shiny and shimmery watches inside of them. In
case you are new to the Ice-Watch concept; here is a little introductory. Ice-Watch
is a Belgian brand that took the world by storm about five years ago. Their
success may largely be due to famous people sporting their watches. Their
designs are usually bold and funky, and come in a great variety of colours and
finishes. Using the mechanism of a Miyota
clockwork, their time-telling is very dependable and accurate. Since the arm bands are generally
made of silicone, the watches are also durable and last a long time; most models are
suitable for swimming and sporting as well.
There are several collections
available and the watch's size would depend on the collection and the type. At
the time of our visit only medium and large sizes were available. The prices
for all collections, except the Stone Multifunction one, are between 700LE and
1000LE. The classic model is a basic watch without too many extra features. So if
you are looking for one that's more of a gadget, then get the more expensive
ones such as the Chrono – which includes a chronograph and calendar. Patriots
will love the Ice-Watch with the Egyptian flag on the clock face; the watch is
available with a white and a black band for 700LE. Ice-Watch also has a nifty
pocket watch (700LE), this foldable watch can easily be clipped on to your
jeans or bag.
The staff at the
shop is friendly and willing to unwrap every piece in the store so you can try
it on. So if you feel like you want to keep up with the crowd, then take a trip
to the Ice-Watch shop and pick yourself out the colourful watch of your choice.