Imtenan Health Shop: Helping You Live Healthy in Cairo
Maadi City Centre, Gate 3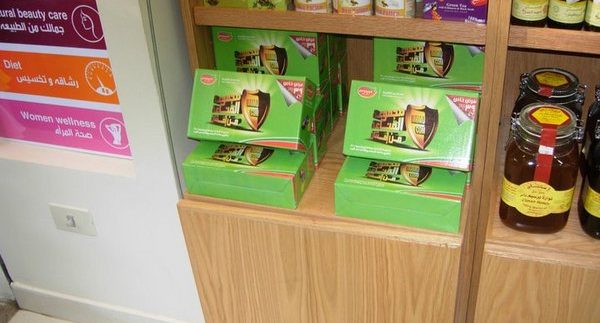 As much as Egyptians can indulge in unhealthy habits, there are certain organic remedies and health practices that have been utilised centuries before the western world caught on. We think it might have something to do with the Pharaohs. In today's world we are seeing more shops dedicating themselves to organic products – as opposed to just markets, and one such location can be found wide spread across the city and is called Imtenan.
Meaning 'gratitude', we visited its location in the Maadi City Centre where they've set up a small kiosk in front of Faces. Going upon a recommendation for supplements, their range of products spread further into a range of purposes.
A man in a lab coat approached, enquiring about what was needed. He was pleasant, formal and informative. After confirming that it was a tin of 'Woman Vitality' (38LE) that would be suitable to our ailment, more browsing ensued.
If you ever decide that you want to revitalise yourself and become a healthier person, Imtenan is a good place to start your shopping. For around 25LE, buy yourself a handsome sized jar of all natural citrus fruit or raw clover honey; ginseng honey goes for double at about 50LE. They also have a variety of cookies and crackers with chocolate chips or spicy tomato flavour (5LE-10LE), not to mention the sun dried banana chips (5LE).
Also on offer is a collection of teas such as 'diet' tea, organic parsley and celery tea or better yet, tea that will detox your skin (7.50LE). A protein bar will cost you 7LE, while other available supplements (other than the aforementioned one for women's vitality) include flax seeds and payllium seeds (15LE-25LE) as well as a range specifically for mothers-to-be.
Inconsumable health and care items are also available such as hair and skin products for external usage. A variety of hair oils include jojoba, gargeer, coconut, eucalyptus and eureca oil (10LE) and for 24LE you can get yourself a bottle of wheat germ oil. It's also possible to make your own personal mix of oils depending on your preferences.
Imtenan also offers a choice of all natural hand soaps with olive oil, propolis, and peppermint with rosemary as some of the 'flavours' shall we say. A bar goes for about 12LE-15LE.
With so many branches around Cairo, there are many, Imtenan's obvious success does not come as a surprise. With a nice variety of all natural health products and foods, with efficient and knowledgeable service, we give this venture a big thumbs up.