Kaf Fatima: Maadi Offbeat Oriental Accessories Shop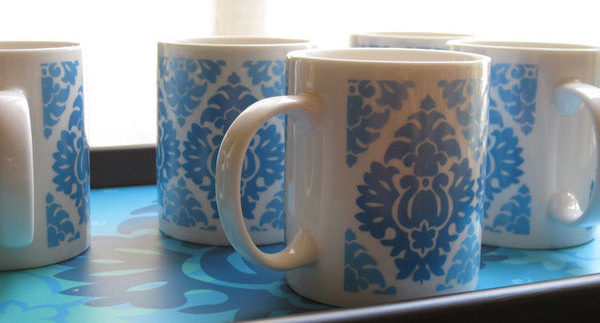 In a land of cheap and faux oriental shop offerings,
Kaf Fatima is an oasis of authentic artisanal creativity on Maadi's Road 233.
This tiny shop holds a disarmingly diverse collection
of oriental jewellery, paintings and home accessories by local designers including
Syrian-Egyptian jewellery designer Thaer Jrab, whose work has long been
relegated to tourist hubs like Coptic Cairo.
Jrab's designs are applause-worthy: creative and
gorgeous metal bookmarks, lamps and gold and silver jewellery inspire a must-have-it-now
reaction not commonly felt in Cairo shops. The designer's bookmarks are also available at
Diwan and are priced between 50LE and 85LE. They come in various creative
designs and make a perfect gift for every book worm.
Other offerings at Kaf Fatima include cute mugs by
Joud (45LE to 50LE each). The colourful, oriental-inspired designs are a big
step up from your average coffee mug and make a great gift for aesthetic-conscious
coffee and tea addicts.
Further highlights at Kaf Fatima include enamel trays
embossed with retro designs, delicate jewellery boxes, and bags featuring
silkscreen prints of Egypt's glamorous and iconic film stars of days past.
The most stylish water glasses, coat hooks, candleholders
and ashtrays ever to be seen in Cairo also grace the shelves of this little
shop, prompting compulsive desires for complete home accessory makeovers
courtesy of Kaf Fatima.
The shop's shelves also house an impressive collection
of tableware – the funky black and white Arabic calligraphy plate set is a
must-have for lovers of oriental flair – plus table accessories such as metal
napkin rings (20LE each), stylish and functional coaster sets and mirrors with
intricate metal detailing.
As if this weren't enough; Kaf Fatima also boasts an
impressive collection of oriental jewellery, which everyone wants to wear right
now. Behold a full selection of bracelets bearing the evil eye, kaf Fatima
pendants and other oriental-inspired designs. We only wish that they made
everything in silver and gold to satisfy our taste for bling.
This reviewer's shopping experience was enhanced by
the friendly and bilingual man who oversees the shop. He patiently helped us to
remove and examine virtually every item off of the shelves, and prevented
several near-accidents with heavy glass display cases.
With prices ranging from just 15LE for a simple
bracelet to upwards of 800LE for a silver and gold necklace or a large piece of
tableware, Kaf Fatima has lovingly made, artistic and local treasures for
everyone to take home.