Katr El Nada: Home Accessories with an Urban Touch
15 A El Mansour Mohamed St.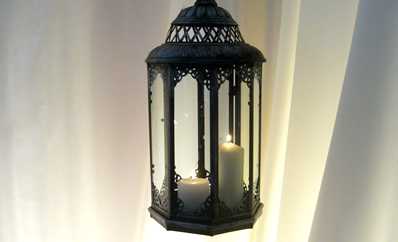 Right next door to our ever-beloved Sami Amin in Zamalek, you'll find a home
accessory shop that seems to be a cut above the rest.
At first glance, Katr El Nada might appear to be just another accessory
shop gracing the Zamalek streets but once you poke your head in, you'll see
that their style and selection has its own thing going on; there's definitely an
original and sweet style to the shop. What the store lacks in size, it makes up
for in personality and selection. On a whole, the shop provides
an urban touch where functionality meets design; and the cost coincides.
From the exposed ceilings to intimate spacing, the homey
atmosphere had us intrigued in no time. Lamps and lighting cover a large
majority of the shop's ceiling space, and range from alabaster track lighting to bronzed,
hammered lanterns. While the lanterns can be used as table top fixtures or hung from the ceiling, one medium-sized
lantern engraved with a modern stroke of simple lining will run you 260LE. For
350LE, a large circular hanging lamp comes covered in a delicate, black and ruched
shade with a few small strands of rhinestonesdangling from its centre.
For 50LE, a salt and pepper set caught our eye with its funky
shape and modern curves; the two pieces fit
each other like two peas in a pod. Made of sleek white ceramic, a set of
matching oil dispensers are were on display for 100LE and came complete with a
holding grid.
If you're looking for more eccentric, handmade pieces, slender
wooden vases (around 190LE) are on display and sturdily made with various
designs.
Everything in the store is up for sale; so don't hesitate to
ask, if the furniture tickles your fancy. The shop is quietly monitored by
staff and easy to browse through; you'll be in and out in a matter of no time.