KDS: Cairo's Newest Concept Store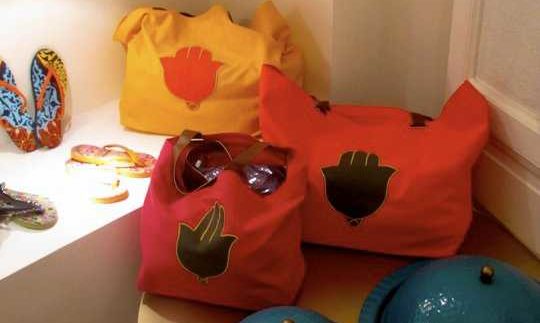 When a family of
artistic Egyptian sisters have a whole group of multi-talented friends, how do
they celebrate their collective creativity? In the case of Karma, Dina and
Dalia Sabet; they join forces to establish the latest concept store in Cairo, KDS.
Located on the
third floor of 157B on 26th of July Street in Zamalek– the same building that
holds Al Masar Gallery– KDS is a bright, new boutique showcasing the work of
local talents such as the Sabet sisters, Dina Said and Hassan Hassan. The
collection of merchandise is supplemented with talent from around the
Middle East as well as internationally renowned names such as Ice Watch and Rayban
sunglasses.
The shop feels friendly
and intimate; there's a lot to see, but KDS is not overwhelming. With nearly
everything in the shop for sale, including the whimsically painted wooden
chairs, customers will enjoy browsing through the photographs by artists
including Anthon Jackson, paintings by Dalia Sabet and unisex t-shirts by
Mostafa Tonbol's label Bourjwah, in addition to jewellery and accessories in
the shop's three rooms.
Bags by El
Horreya, colourful flip-flops by new local brand shibshibi (140LE), and Design
Emporium fabrics are amongst the selection. The shop also features Zanzibags, a
selection of pouch-sized leather bags with bright print fabric from Zanzibar
for around 250LE a piece.
A few furniture
items are dispersed throughout the space, including golden ahwa-style chairs,
upholstered seats, collage coffee tables and bright framed mirrors.
Because so many
names contribute to the KDS collection, there is something for everyone's taste.
Overall, the shop is decidedly young, fresh and funky: clutch bags, beach bags and
delicate jewellery feature the kaf motif; while earrings (300LE) and cufflinks
(around 600LE) are embellished with elaborate fabric flowers by Sevinch.
The shop also
stocks a selection of vintage sunglasses by Vintage by TS, which includes
vintage Christian Dior from as far back as the 1940s and as diverse countries
as India and Italy. Prices average around several thousands for the unique finds.
Shopping at KDS
is a personal experience; yet this experience could be improved if all the jewellery
counters and shelves of bags had attached labels or card signs carrying the
brands' names; so customers unfamiliar with the various designers could tell a
Horreya bag from a Zanzibar
one.
Although the
store is new, KDS is sure to be a success; as it gains strength from a network
of creative young minds here in Cairo.