Khadra: Gardening Enthusiasts' Dream at Americana Plaza
Shop 9, Ground Floor. Americana Plaza, Sheikh Zayed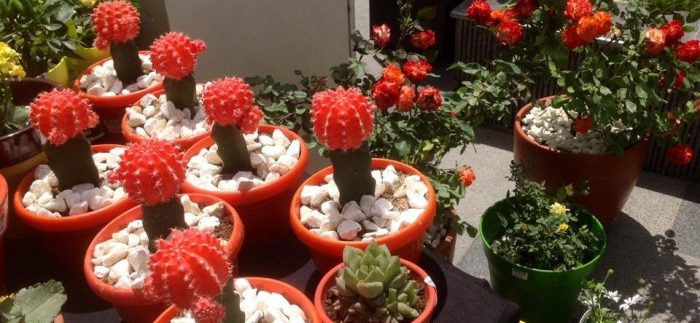 Experimenting with the idea of planting and gardening their own backyards, Khadra, Cairo's newest plants and greenery farm has just opened a venue in Sheikh Zayed's Americana Plaza ready to share their passion for gardening with the city.
While Khadra offers a selection of citrus fruit trees, fresh potted herbs, vegetables, trees, shrubs, flowers and cacti all ready to polish our homes, they also decorate beautiful landscapes to enhance the appeals of any spacing. Additionally, they design pieces for events and restaurants that match the interior.
Divided into an indoor and outdoor section, the venue is filled with different lively plants, arranged in different pots, ranging from ceramic to wooden barrels and metal buckets vibrantly displaying a wide spectrum earthy colours.
While the indoor area was tight in space, the arrangement of the plants was neat and organised, consisting of smaller, harder to find plants like the unique Kamatchu Cactus (100LE–150LE) and Chinese Bonsai tree (600LE). While somewhat overpriced, the plants were exotic in colour, varying from hot pinks, summery yellows and vibrant oranges.
The outdoor venue was delightfully arranged like a decorated landscape. Displayed were a variety of different types of fresh flowers ranging from (120LE-170LE), other bigger Bonsai Tree were also on display, ranging in size and price (1500LE-1700LE)
A whole section is dedicated to Khadra's Kitchen; a collection of planted fruits, herbs and vegetable including a medium sized lemon tree placed in a stoneware pot (670LE), a large under-blossomed peach tree (620LE), a few planted pre-ripe tomatoes placed in small flashy metal buckets (100LE), as well as red-hot and green peppers (130LE).
Khadra are known for their large wooden barrel pots that combine six different fresh herbs (750LE) including thyme, tosemary, mint, basil, green tea, and bay leaves, that can easily be planted to grow in gardens.
Overall Khadra's idea serves a broader impressive perspective of greenery than Cairo's usual plant shops. By initiating the value of natural and organic food, our own backyards may soon be our own growing snacks.