La Bottega Italiana: Pasta, Pasta, Pasta!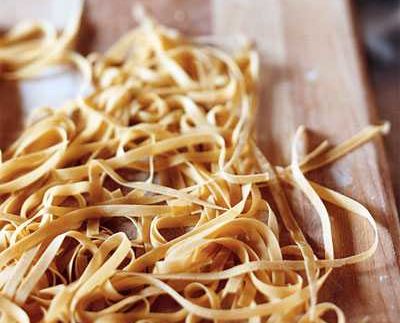 For
some cooks, it's all about authentic and fresh ingredients. If you're at a loss
of where to turn to in Cairo
for your kilo of porcini mushrooms, buffalo mozzarella or fresh ricotta, the
quaintly-named La Bottega Italiana grocery in Maadi may hold your answers.
Packed
with more varieties of pasta than you can count, the grocery also holds
imported olive oils, vinegar, canned tuna, biscuits and other specialties from
the Italian heartland.
Shelves
are stocked to the brim with imported pasta brands from Dececco to Delverde. Nests
of Aurea taglietelle al peperoncino, agli spinaci and taglietelle con papanero are
available for 14LE per 16 oz. bag, alongside hand-crafted fresh penne and
linguine at 22LE per 16 oz. bag. At the time of this review, most varieties of
pasta were on special offer for restocking purposes, as the single shop
attendant was eager to explain. Del Verde gnocchi was selling for 13LE per 16
oz. bag, Aurea Linea varieties for 10LE, and Daniella pasta for 12LE. the
condiments sit across from the dizzying display of linguine, flat rolls of
lasagne, corkscrew fusilli, conch-shaped pasta shells, macaroni elbows and
delicate angel hair.

Both organic and non-organic honey jars are available in
various stages of crystallisation starting at 70LE a jar. Olio Bio olive oil
starts at 50LE and Dockers green apple vinegar costs 22LE a bottle. Canisters
of tuna are carefully stacked, packed in olive oil and available for 50LE a
precious tin. Glass jars of Italian sauerkraut sit beside bags of porcini
mushrooms (180LE per kilo).
The
deli is flanked with bars upon bars of Toblerone and Animation Chocolates (20LE
per bar), Cadbury eggs in various sizes, as well as the standard Galaxy bars.
Biscuits and sweets line the back shelves, with supplementary canned cherries,
imported marzipan, and metallic tubes of maroon paste stacked near the register
like candy, sold at 25LE a pop.
All
this and we haven't talked about the deli counter yet. Behind the display case
lies a precious collection of mozzarella, fresh and afloat in its container and
yours for 160LE a kilo, handsome wedges of thick-rind parmisiano regiano (180LE
per kilo), crumbly Italian gorgonzola (190LE) and tubs of fresh ricotta (70LE
per kilo).
The
deli also supplies Italian ham and salami (160LE per kilo), select cuts of beef, and
horse meat for 250LE per kilo.
We
were especially delighted to find all the ingredients for the makings of a
classic risotto, with sacs of Arborio rice, imported chicken broth stock and
the coveted porcini mushrooms. Throw in some garlic and a few spring onions and
you have one happy chef on your hands.