La Vie Boheme: Handmade Accessories & Knickknacks from Charming Online Brand
Delivery Only (All of Cairo)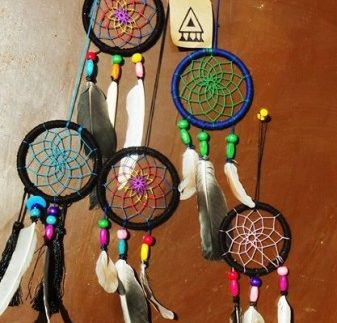 Get ready for an anti-capitalist rant, Cairo. In a world where mainstream consumerist culture has taken over our lives with almost everything we eat, wear and just generally consume, we've acquired a certain lust for a simpler, less pretentious lifestyle.
This year, possibly spurred by the new wave of creative artisanship sweeping Egypt, three creative, carefree young minds came together to create their own brand of one-of-a-kind products. The resulting collaboration gave birth to La Vie Boheme, which operates on an online, delivery basis through Facebook, boasting an array of beautiful handmade products.
The La Vie Boheme line of products is incredibly diverse, offering everything from shawls and kimonos to notebooks and photo albums emblazoned with inspirational illustrations and quotes to floral purses- they're all handmade and eco-friendly and each piece is one-of-a-kind. Scrolling through their endearingly eccentric products, our eyes caught a few beautiful items we definitely wanted to get our hands on; a medium-sized, hand-painted notebook (55LE), a wool kimono (165LE), a large handmade flower crown (70LE) and a colourful dream catcher (160LE).
We placed an order for a medium-sized dream catcher (45LE) by messaging their Facebook page. Replying quite quickly, they asked if we wanted it to be in any specific colour and we requested it to feature blue and green hues. Later on in the day, we were informed that our order was ready and that we can pick it from Dokki – needless to say, their efficiency and promptness took us completely by surprise.
This is no brown paper bag job – literally. The dream catcher was professionally packaged, emblazoned with a simple, yet truly charming "Made with Love". The dream catcher itself was intricately detailed and featured our requested colours, though it was a little smaller in size than the photos suggested – so it might be a good idea to clarify details such as size when placing your order.
La Vie Boheme is set to introduce a new line of products soon that will include handmade apparel, like harem pants, as well as accessories such as bags, earrings and necklaces.
Though cynics will endlessly find reason to bash social media, in Egypt, it offers creative designers a platform through which they can share their talents. The three brains behind La Vie Boheme are a prime example of exactly at and, let's be honest; why go through the pain of getting dressed and making yourself look presentable, when you can enjoy the delights of shopping from the comfort of your own home?