Le Souk: Antique-Lovers' Haven in Zamalek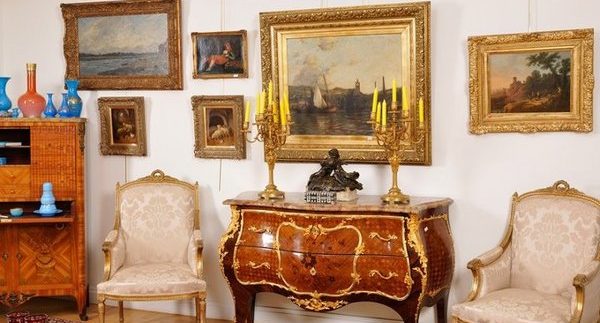 For those
familiar with the innards of Zamalek, the flagship red canopy that marks Le
Souk has always intrigued passersby. In spite of the inviting red façade, this
is not a place to stroll into for some killing-time-shopping – Le Souk is
perhaps one of the few proper antiquaries in Cairo.
The shop is set up to feel like an old home and
the overall ambience is welcoming. To review Le Souk's prices is almost
impossible, since their items are all singular and unique – making their price
ranges just as unpredictable. Their collection includes antique mirrors, vases,
tables, chaise longues, sofas, buffets, writing desks, armchairs, lamps, coffee
tables and, of course, antique clocks.
While the styles vary, there is a singular
vision for the shop that makes it somewhat exclusive; but then again, what's an
antique shop if it's not exclusive. Some of their designs include painture (painting
on wood) and Louis XV-style armchairs, while other designs include more
flexible art deco and classic styles.
Most of the items in this shop are handcrafted
and gathered from different countries and collectors. The rugs are all hand
woven and include Bohemian, Persian, Bukhara, and Caucasian designs in wool,
silk and combination materials. They range from runners, to large sized and
medium sized rugs to smaller collections and are likely to fall in the range
between 13/14,000LE and 30,000LE.
They also hold a large variety of crystal vases,
colourful opalescent glassware, Sèvres and Bohemian porcelain, silver tea and coffee sets,
dining sets, horns, wine-dispensers, oil and vinegar dispensers, and a large
selection of silver-plated teapots. Wall plates, tapestries, oil paintings and
statuettes are carefully arranged around the shop and add to the overall
ambience; throw covers are casually strewn about and are also for sale.
Take your time to browse the shop because there
are a lot of gems in hiding. One such item is an antique Christofle silver centrepiece
that is not "for sale" but could be let go if one truly appears to appreciate
it. Once again, it is exclusivity and a deep appreciation of antiques that build
a loyal customer base in a place like this.
The rear section
of the shop is dedicated to The Gallery. Art exhibitions are held monthly and
include many established as well as less-known artists. At the time of our
visit, they held an exhibition entitled "Egyptian Women through the Looking
Prism" which included works by Omar El Nagdy, Mostafa El Razzaz, Waleed Ebed,
Mohamed El Tahan, Reda Abdel Salam and Abdo Ramzi Rizkallah. The advantage of
combining novice artists with more established ones is that the prices range
from 2000LE-3000LE all the way up to 90,000LE.
Last but
not least, do ask about their wedding list service if you have an affinity for
antiques. Also, if you're looking for something specific and it is not on
display, they have a storeroom that they can dig into, so don't shy away from
asking.