Le Voile: Every Kind of Scarf You're Looking for in Nasr City
35 Ezzat Salama St., off Abbas El Akkad St.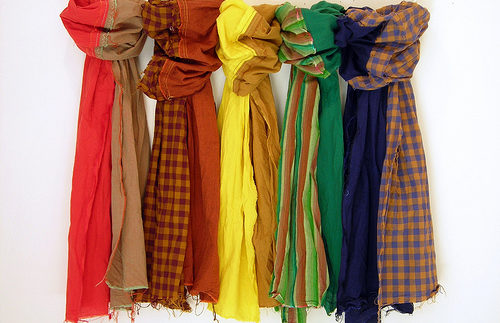 Scarves, like all other accessories, have the ability to make or break an outfit. Consequently, you need to be extra picky when choosing one. Located on Ezzat Salama Street in Nasr City, right off Abbas El Akkad Street, Le Voile offers you an amazing assortment of scarves that will surely make all your outfits.
Le Voile is a tiny shop that stocks colourful scarves in a variety of styles and designs. Whatever it is you are looking for, you'll most likely stumble across it at Le Voile's tiny space. Scarves are grouped together based on colour, making it easier for customers to come across any difficult-to-find shades. However, items on sale were not organised similarly, making it a hassle to find a cheaper scarf in the desired colour.
It was brought to our attention that most of the time the sales assistants are babbling on the phone. And while this might fill the shop's tiny space with non-stop talking, it also means you are left to your own devices, happily picking out the scarves you want with as little disturbance as possible.
Le Voile offers scarves in a variety of fabrics including chiffon, cotton and satin. Price- wise, Le Voile's scarves are very moderate. They aren't the best that can be found in the city, but they offer great value-for-money. Most scarves that caught our attention attention fell closely to either side of 40LE and very few items cross the 50LE border.
A pink leopard faux chiffon scarf sold for 40LE, while a striped turquoise scarf was priced at 35LE. Polka dotted scarves are available in abundance and in a variety of colours and sizes.
Other accessories can be found at Le Voile as well. Bandanas of various colours and sizes are available for as little as 5LE. Le Voile also offers detachable long sleeves, bracelets and necklaces. And while this accessories collection seems more of a chop-shop of goods, it might not hurt to have a look around.
Square scarves with dangling tassels that are normally worn around the neck in a triangular shape are also available with an average price of 35LE.
While Le Voile might not be the best scarf shop in Cairo, suffice to say; it's definitely a potential first stop when a new outfit is in desperate need for a matching scarf.