L'Oiseau Du Nil: French Countryside Glamour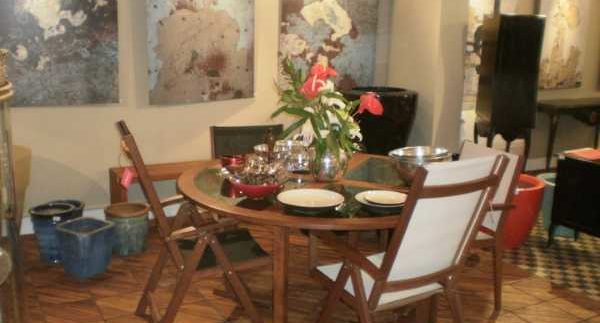 Cairo is never short of home accessory stores,
many of which seem to be dotted around the Zamalek island. Opened across from
the Fine Arts College in early June 2010, L'Oiseau Du Nil (Bird of the Nile ) is the latest elegant Zamalek gallery to offer a
diverse collection of paintings, accessories and furniture pieces in a spacious
and elegant setting.
There's a certain
cluttered and sporadic sense to the store in the way the items are randomly
positioned and displayed. The store's large windows carry an attractive
arrangement of pepper-red cushions with vibrant flowers under an equally
vibrant leather bag, both of which contrast nicely with the bright blue, wooden
child's desk and its quaintly matching stool. Oil paintings and silkscreen
prints adorn the walls, all by local artists for prices ranging between 3000LE
and 15,000LE.
Perhaps it's the
chilli pepper curtain hanging behind the storefront window, the sand beneath
the window's displayed items or the long wooden and cream chaise longue
temptingly reclining in the store's corner, but the items invoke a certain
summer house vibe. If this reviewer had a beach house, the round, wooden
four-seat table would fit perfectly on our terrace. Two eight-seat oblong
lacquered wood tables (15,600LE) in either black or white are displayed on
either side of the room, both of which are modern, sleek and graceful additions
to a spacious and well-lit room.
For something a
little fancier, a His-and-Her set of black wooden cabinets (9100LE each) carry
portraits of Marie Antoinette and Louis XVI. A display shelf in the centre of
the room holds delicate ashtrays, mugs, teapots and vases in china, glass and
silver. On one end of the store, a white cast-iron bed (2200LE) is decked out
in 100% cotton sheets and a quaint, handmade quilt in bright pink with flower
patchwork (around 400LE). Bedding and cushion covers by local brand Malaika are
stocked on a shelf next to a selection of delicate notebooks.
On the other side
of the room, display shelves carry a collection of leather bags and fabric
clutch bags by Vika and Nuniz, including a snakeskin clutch bag with an Arabic
calligraphy slogan in silver (400LE) by Vika, and a canvas brown and beige
clutch bag by Nuniz for 600LE. A golden
cabinet displays large stone rings and golden drop earrings by Dina Magawry,
while a separate cabinet contains delicate gold-leaf necklaces and bracelets
with the kaf symbol as well as several large stone rings. Prices range from
300LE to over 600LE for the jewellery.
While many of the
store's items were quite aesthetically pleasing, the shop's formula of
combining home accessories with jewellery, bags and paintings is far too
familiar. Too many galleries and stores have recently tapped into this trend
and display the same styles, if not the same labels.

Nonetheless, L'Oiseau
provides elegant and chic home accessories and gifts just in time for the
summer season.