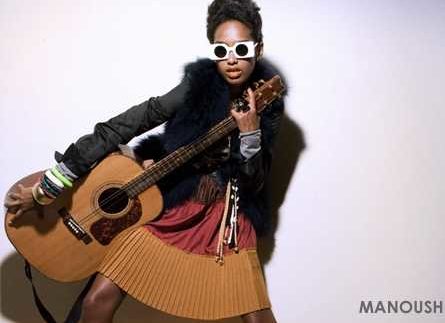 Loolies is the kind of place that pulls you into a different time and place. Located in the old school, quiet part of Zamalak not far from Marashly Street, you can tell this boutique tries hard to invoke something of the artsy studio retail of Paris, London, or New York. Admittedly, it definitely works for me.

The placard displaying the title in gothic script is discreet: I would have wandered in vain had I not been guided by a fellow fashion enthusiast who was gushing of her recent find. She 'gushed' all the way up the front steps of what I took to be a handsome residential building, where she rang a doorbell and greeted the woman who opened the door like an old friend.

Introductions were made, and I was let loose to revel in what I can only describe as a true paradise for the couture-lover. Slightly contrived it may be, with twenty's jazz tunes of Ella, Louis Armstrong and Lady Day crooning in the back ground, but it did nothing to discourage my delight. I remain completely enamoured.

A million questions were asked; a million pieces and outfits whisked off hangers and loaded into the dressing rooms, along with detailed inspection of the designers and collections on display. It turns out Loolies hosts a variety of local fashion designers, along with some foreign names. The apartment-turned-boutique has the feel of a Parisian flat, which is emphasised by at least half of the space being devoted to furniture and linens, in which elaborate antique-inspired chandeliers, mirrors, tailored bed linens and settees are crammed.

Collections of hand-bags, jewellery, knits and even lingerie come from a collage of Egyptian, Lebanese, Turkish and French designers, each section exhibiting a different vision of current fashions and trends.

Manoush, the popular French Lebanese label, has the usual bedazzled and bedecked t-shirts, cardigans and funky eveningwear decorated with the designer's signature gold hand of Fatima motif. Local Cairene design Bischette Bags has a shelf all to itself to display its hand stitched clutches and purses. American Retro (French in spite of its name) makes a big appearance here, usually adding ruffles or lace to something as classic as a blazer or shift dress. One of the most fun designers is Amina K, who crafts modern pieces out of traditional Egyptian and Moroccan textiles. Her broad embroidered belts and wraparound tops will individualise any outfit. Loolies also features a line of zipper clutches and laptop cases of colourful quilted fabrics by Horreya Designs, so you can deck yourself out in some local flair , and carry your computer in style.