Maison De Mireille: Understated French Quaintness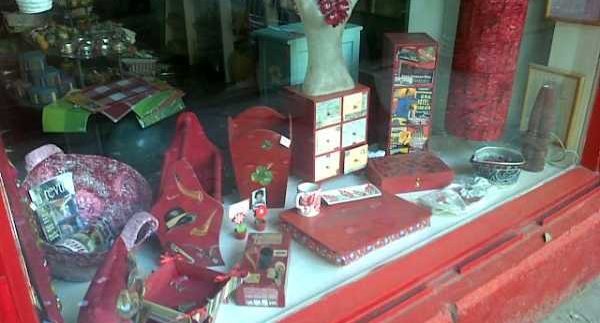 We all have our
weaknesses. For this reviewer, the little Zamalek store Maison De Mireilles is
one of them. Boasting exquisitely hand-painted and lovingly handmade home
accessories, Maison De Mireilles has been an upmarket and popular choice for
home decorations and gifts for many years now.
Its location on Ahmed Heshmat Street
in one of Zamalek's poshest areas has helped this store attract a fan following
of chic Cairenes seeking a rustic, charming French touch to their homes. As its
name would indicate, Maison De Mireille mostly stocks wooden tables, shelves,
mirrors, jewellery boxes and table accessories that would fit nicely into a
French countryside summer house. Even the store's wooden and red-painted window
makes you feel like you're peeking into someone's elegant (French) home.
Stepping into the
store, you're greeted by shelves carrying beautifully painted jewellery boxes,
including a large baby blue one (165LE) with orange coral shapes delicately
painted on top. Laptop resting boards (around 170LE) come in various colours of
wine red, blue and purple with attached cushions in pinstripes and other
patterns. Postcard holder shelves
(185LE) in blue are painted with a collage of photos and stamps to emphasize
that French feel, while the store's namesake mirrors (around 550LE) come in
various patchwork designs, including a blue mosaic design.
For those seeking
elegant children's furniture, the store has a quaint collection of chairs and
tables, as well as three-tiered jewellery boxes with little drawers and painted
flower patterns (between 350LE and 425LE). More man-friendly gifts are
available on the other side of the store, such as the luxurious cigar boxes in
either wood or leather, with built-in humidifiers (around 550LE and upwards).
Or perhaps a wooden wine rack is more his style, ranging from 195LE for a
simple design to 950LE for the tall, dark red wine cabinet, with spaces for 16
bottles.

For a more feminine option, try their selection of paper lanterns
(75LE and upwards), their large cushions in a bright flower pattern of blue,
purple or green (200LE), or their dark red trash bin with painted flowers
(105LE). Yes, flowers are heavily represented here, as is the company's
signature dark red wood.
For something
non-wood related; the store has a small collection of clothing, scarves, bags
and table accessories. The back of the room also stores a selection of incense
oils and paintings.

Browsing through
Maison De Mireille is a pleasurable, albeit short experience- the shop is
pretty tiny, but luckily the sales attendants are friendly and rather
non-committal, and will leave you alone to peruse to your little heart's
delight. Unlike many of its home accessory contemporaries, the shop
doesn't attempt to replicate ethnic Egyptian designs to attract the tourists.
Instead, its understated French elegance is represented in every item.