Maktoob Bookstore: Unassuming Used-Book Shop in Zamalek
In a city like Cairo, you never know what's around the corner and, quite often, the best experiences are the ones that happen out of chance. We took a wrong turn onto Yehia Mahmoud Street in Zamalek and stumbled upon a recently opened gem called Maktoob Bookstore.
With simple decor, it's noticeably different to some of the more popular bookshops in Cairo, in the sense that the art of writing doesn't feel like a manufactured product here. The brown walls and many paintings were the first things to attract our attention when we walked in. To the right are a resting area and a small board for advertisements, while to the left is where you find the Arabic books. Through a hallway occupied by children and pre-teen books you reach the backroom that houses all the English books.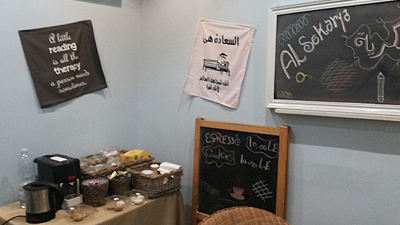 The collections themselves are not large in any one genre, but the idea is that most of the copies are used, which adds a certain value to them to the avid reader. Novels make up most of the English section, like old editions of Ernest Hemingway's The Old Man and the Sea costing 25LE or the newer edition costing 80LE. Other authors included Agatha Christie, whose collection cost 30LE per book, while in the newer contemporary writers we found Danielle Steel books to also cost 30LE. Other books on offer include self help and development books, and autobiographies include Bill Clinton's My Life which cost 119LE.
The Arabic section is similarly split between classics like Yousef Edris and Yousef El Sebai, and contemporary writers like Ahmed Mourad and Yousef Zidan. Son'allah Ibrahim's El 'Emama w Al Koba'a costs 19LE while Naguib Mahfouz's Awlad Haretna costs 45LE. Additionally, there are international novels translated in Arabic, the most interesting of which was a very old edition of Anton Chekhov's Three Sisters – translated from Russian – and cost just 2.50LE.
Like any other bookstore there's also a stationary section, but it's very small by comparison. What sets Maktoob apart, however, is that they allow loaning books on a monthly subscription. A personal subscription costs 180LE and will allow you to take out ten books – two books at a time maximum – and a 30LE gift voucher. The family subscription, costing 350LE, allows you twenty books – five at a time – and a 75LE gift voucher. This can all be done through their website.
While many discerning Cairenes value all things new and shiny, there's an intangible charm that makes Maktoob's existence as both a bookshop and a library, of sorts, rather unique.