Markaz: Authentic Egyptian Crafts in Maadi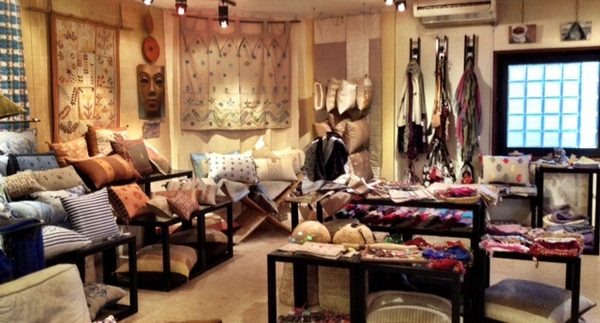 If you want to find crafts from all around the country, Markaz is the place to go. Located on Road 199 in Degla, the charming shop considers itself to be a 'crafts revival and development centre'. Carrying household items made from all areas of Egypt, the merchandise is as authentic and local as can get. The shop itself is somewhat discreet and could easily go unnoticed since there is no sign at the door and one could easily mistake it for being, well, anything other than a shop.
The interior is soft and inviting, made up of two floors. On the bottom floor you will find a range of tribal-like carpets from South Sinai adorned with almost Aztec patterns, available in deep reds and browns, or more neutral colours. The prices go between about 250LE and 400LE according to size. Further into the shop there are floor-to-ceiling shelves with handmade bed covers and throws (around 250LE) and table clothes (around 175LE).
'Akhmeem' designs – which use a striped, satin-like fabric – originating from Sohag, are readily used on pillows, where a relatively large one goes for 120LE. Other styles of pillows can be found upstairs, with embroidered scenery made in South Sinai.
A large selection of brightly-coloured cotton scarves (195LE) make for a perfect gift, while equally vibrant kitchen towels (35LE) can also be found. Another large shelf carries a variety of serving dishes made in Hegaza, Luxor. From bowls and teapots, to larger serving dishes and trays, these items are made in both wood and ceramics; their prices go from as low as 20LE for a small bowl, to about 180LE for a large serving dish.
Handmade notepads made by El Nafeza, located in the Fustat District of Old Cairo, come in different sizes and patterns for between 45LE and 70LE. Wonderfully bright baskets, useful for a range of needs, are scattered around the shop, costing between 35LE and 50LE.
Moving upstairs, the merchandise continues to impress. Apart from the extensive choice of pillows continued from downstairs, one can find more carpets as well. Colourful shaggy ones made by Gam'eyat El Zabaleen come in a wide variety, while ones made in Mokkatam caught our attention with camels and fish designs that resemble Pacman graphics. Also upstairs are a selection of mashrabeya tablecloths for about 350LE.
Other random items include straw laundry baskets in several sizes, a hammock (250LE) and cotton handbags.
The shop assistant was very helpful in identifying where each product originates from, without hounding us – always appreciated. Markaz is a cosy setting to browse in and the products are a great tribute to the workmanship we have available to us in Egypt, so, hats off to them.