Marks & Spencer: Now Open in Cairo!
Unit 73, Ground Floor, Dandy Mega Mall

10AM to 11PM; Fridays from 10 AM to 12 AM -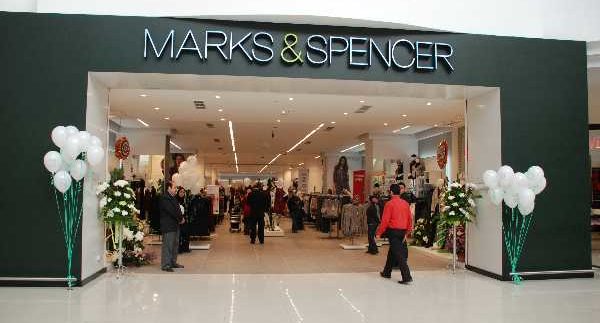 Shoppers in Egypt,
rejoice! Marks & Spencer has opened its doors in Cairo, offering a
selection of women's and men's wear, children's clothing and household items.
Located on the ground
floor of Dandy Mall just before the Cairo/Alex desert road gates, Marks &Spencer
is the UK's largest clothing retailer and one of the first major department
store chains to venture into Egypt.
If you're familiar
with Marks & Spencer in London; be warned that the Cairo branch does not
sell M&S food, furniture, gadgets or flowers and gifts. However, you will
find an impressive collection of sleepwear, underwear and practical office
wear; staples traditionally associated with M&S.
As is customary with
many M&S stores, the women's collection is definitely larger than the men's
wear. Judging by the available selection of comfortable, practical office and
casual wear, M&S's target female customer is the mature business woman that
is more concerned with comfort than with trends.
The M&S line
Autograph is heavily displayed and includes a solid selection of black trousers
in straight leg, bootleg and wide leg cuts for between 275LE and 350LE. Colours
are limited to black, grey and brown, with some fabrics bordering on
comfortably stretchy, while three trouser lengths are available in short,
medium and long.
Highlights include a
silk-like cream long-sleeved, polyester shirt (450LE) and a green pencil dress
with black stitching and a black belt (775LE). At the time of our visit, the
women's shoe collection was limited to a few shelves of practical, low-heeled
leather shoes in black and brown, in sizes starting at 36; prices average
around 625LE for a pair of Mary Janes.
The women's bag and
accessory selection is quite small, but includes a few interesting buys such as
small satin clutches in purple, red or gold for only 90LE, while a black
sequined Autograph clutch costs 450LE. Necklaces and bracelets are limited to colourful
plastic pieces, while a few scarves can be found for around 220LE.
Located next to
several racks of women's sportswear including sweat-proof t-shirts and fleece
jumpers (165LE), the women's sleepwear collection includes fleece robes, camisoles
and pyjama sets (625LE). A few slippers are available in sizes small, medium
and large (which fits up to a size 44.5), in either woollen or fleece slippers
(113LE), or even fleece booties.
The women's lingerie
collection is the most impressive section of M&S, including every type of bra
from minimisers to full support and t-shirt bras. Sizes range from a 32B to
42C, which is very rare for a clothing shop in Cairo to have. Briefs range
from size UK8 to 22, with an average VPL priced at 90LE, a thigh slimmer at
316LE and a value pack of four cotton briefs at 125LE.
The children's
clothing section includes the Indigo Junior collection, the 0 to 2 collection
and a Hello Kitty sleepwear selection as well as a few fancy party dresses for
5 to 14-year-old girls. A toddler's striped hoodie comes with matching woollen
tights (250LE), while a boys' underwear selection includes cute Manchester
United and Sonic the Hedgehog boxers (125LE).
The men's selection is
limited to one corner of the shop, but it includes the M&S staples such as a
set of three cotton boxers (275LE), a cotton pyjama set (315LE), and a pack of
ten cotton socks for 175LE.
One shelf carries Blue
Harbour jeans in regular or straight-legged cut and ranges in colours from
stone-beige to black. The jeans are all priced at 215LE, part of M&S's best value promotion found throughout the shop. This
corner also includes a collection of formal suit jackets, ties and shirts as well as
shoes by Collezione.
Right in the centre of
M&S, you'll find a few shelves of household accessories limited to chenille
cushions (275LE); woollen throws in red, green and multicoloured print, and
large towels (275LE) in grey, cream and purple.
Room incense sprays,
oils (35LE) and diffusers are available in fresh rose, vanilla and cut flowers, among others. Several other shelves carry the M&S range of hand and
body lotions, perfumes, bath creams as well as shampoos in rose, lavender and
magnolia. Several of these products are priced at a very reasonable 30LE.
Head to Marks&
Spencer this week and make sure to
check out their quality, practical clothing as well as their sweet-smelling home and
body products.