Miss Sara: Unique Handbags in Nasr City's Genena Mall
Genena Mall, 9 El Batrawi St., off Abbas Al Akkad St. Shop #34c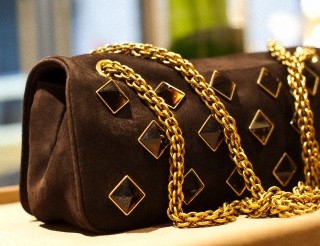 Shopping for a new pair of shoes or a trendy purse can be the perfect break from a stressful week, especially when the said purse is shining with twinkling jewellery. Miss Sara in Nasr City's Genena Mall has plenty of such examples, where the shop isn't exactly fond of simplicity.
At first, Miss Sara looks like any average leather shop, with sales signs in the display window and muted winter colours tones inside, in variations of black, brown and navy blue. They offer winter boots at great prices starting from 96LE for a pair of black, knee-length, leather boots with durable-looking material, as well as converse style sneakers for just 30LE.
From the standard flat ballerina shoes with a buckle on the front (75LE) to beige stilettos with oriental clean-cut carvings in the leather (135LE), the only things that stood out were the casual wedge-heeled denim sandals with a small bow by the ankle for 75LE and the odd, rather bothersome, combination of a leopard printed chiffon scarf wrapped through a shiny leather bag made of lizard skin.
But this all changes when you reach the next half of the store, nearing the cashier, as it becomes another shop altogether; one that features excessively studded and sparkly bags that occasionally carry a Louis Vutton logo and name. At least the mock-up designer navy blue bag was priced reasonably at 175LE if you turn a blind eye to the small typo, yet nothing could prepare us for what came next.
Miss Sara has several colours of what might be the busiest leather surface in the country; small bits of mirrors, coloured gem stones and small crystals – which the salesman claimed to be original Swarovski – are all peppered generously in every possible space on the grey purse. Well, nothing is exactly generous since the bag comes with a 2325LE price-tag! While the price might be justified by the amount of expensive material the bag contains, neither the design nor the overdone embellishment does it any favours.
Following a couple of similar designs, the shop then tones it down a bit with equally shiny high-heeled silver, golden and pink sandals (425LE) that are simpler in their designs with only a narrow ankle strap and crystal fringes.
The store's items may come off a little too overwhelming for those who aren't looking for a mirror-themed runway show. The original items are what make Miss Sara standout among other shops. However, with bags retailing for eye-popping prices, you might as well save the money for a real Louis Vuitton purse.