Motolife: Easy, Breezy Scooter-Shopping in Heliopolis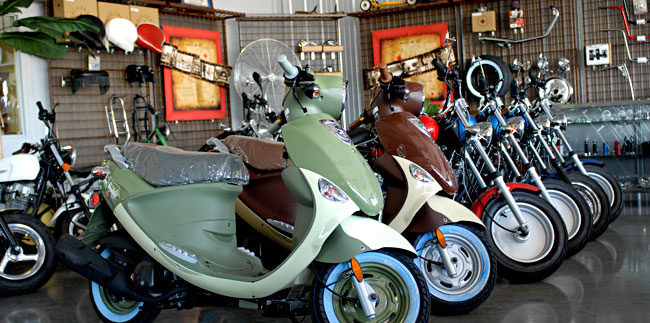 No longer just a hobby, scooters have come into mainstream attention in Egypt over the last couple of years. Many find it a convenient and easy way to beat traffic, and a much more stylish option than the old Italians Vespas.
Motolife, a chain of stores specialising in scooters and their accessories, offers a wide variety of options within three scooter brands; Sym, Kymco and Daelim. The store is spacious and exhibits its merchandise in a large showroom inside, as opposed to on the sidewalk as so many bike shops in Cairo tend to do.
Prices are a little cheaper than other showrooms selling the same models, but the salesman at the store explained this was because they have real insurances on the scooters and have service centres at all their branches. So, the service was good and the staff was helpful.
The Sym models started with the traditional Fiddle at 7000LE, the Jet 4 at 9200LE and the Symphony at 9600LE. All the above possess an engine displacement of 150 cc, which is the recommended cc value for a first time scooter rider. The models were available in black, white, red and blue, but only the white one was in the showroom at the time of our visit. Strangely enough, to see one of the unavailable colours, you have to pay a 200LE down payment so that they can fetch one from storage for you.
The 300 cc models looked a lot more chic. Larger in size with darker, classier colours, they start at the Sym 300 which costs 28,000LE. The Kymco Joyride and Roar both upwards of 32,000LE and Daelim K-XCT and GTS 300i, completely made, assembled and imported from Korea, start at 25,000LE. The 200cc models were in shortage both at the store and in Egypt in general.
Zues helmets come in all shapes and colours, ranging between 350LE and 800LE including full and half helmets. They also have protective padded jackets, gloves, locks and glasses and other accessories, most of which are Chinese, but look good and don't cost much.
If you want a good showroom where you can see different kinds and sizes of scooters where you can compare and contrast, we recommend Motolife with all its branches. Don't be afraid to haggle.