Much More: Colourful Accessories in Nasr City's Genena Mall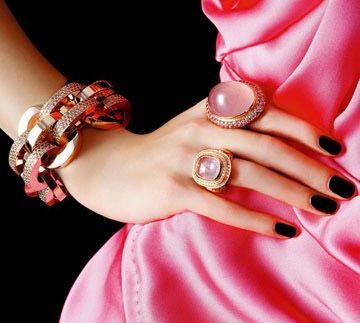 Cairo isn't
a cheap place to shop by any stretch of the imagination, but for all the
expensive shops that hold us shopaholics for ransom, there are much more
moderately priced alternatives like Much More, which offers a nice collection
of accessories and gifts under one pink roof.
Much More
is likely to be popular among young girls giving the variety of colourful, plastic
accessories and glittery party supplies. The shop stocks shiny party masks for
20LE and the famous Minnie Mouse ears hair band for 36LE, as well as a
collection of furry bunny slippers in small sizes that range in theme characters
from Mickey Mouse to SpongeBob for 25LE a pair.
The silver
and golden accessories section takes up three walls of the shop, mostly in the
shape of long, classic necklaces with traditional heart or abstract-shaped
charms. Their prices range around 25LE but they usually have a buy-one-get-one-free offer, so they end up retailing for far less. That being said, the
accessories aren't exactly of the best quality.
You'd better
stay away from the so-called grown-up accessories anyway; you can find better
options at other shops, whereas plastic accessories are what Much More does
best. Though they might come off as a little overpriced, you can choose from
several size-adjustable plastic rings, each for 10LE. They feature some
creative rings like the chocolate donut, or the cute big-eyed Koala bear. For
20LE, you can get a matching set of a multicoloured necklace, a bracelet and
earrings.
If you
don't fancy accessories as gifts, Much More has a group of puppets and stuffed cartoon
characters including Buzz Lightyear, Batman and a couple of Smurfs that range
between 40LE and 50LE for the medium-sized ones. Another suitable gift idea
would be the small fabric wallet that looks durable and functional with busy
prints and decorations (25LE), or the maybe one of the revolution-themed key
chains (each for 10LE) decorated with a popular chant or with the Egyptian
flag.
Genena Mall
isn't short on gift shops, and let's face it; Much More doesn't really offer
much more than the average gift shop. However, it presents a market for young
girls' accessories that aren't as expensive as they sometimes are in big
brands' accessory shops.