Nesma Bazaar: Make Your Own Jewellery in Maadi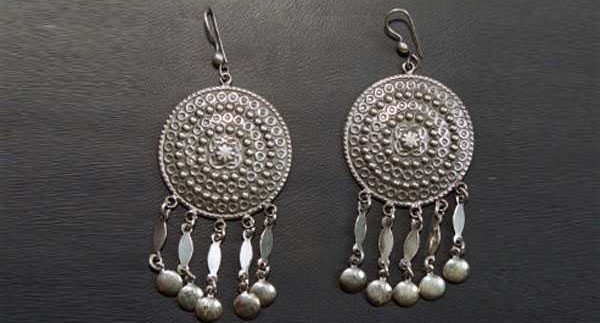 Located between
Travco and Café Greco on Road Nine, Nesma Bazaar looks like your typical tourist trap with
its dark mashrabeya doors and display cases, and the bustling souq-like
interior full of Pharaonic name tags, mother-of-pearl jewellery boxes and
tourist guidebooks. However, there's more to this jewellery than meets the eye;
spend a little time browsing the shop and you'll find many surprisingly little
treats.
The broad shop is
cased wall-to-wall with display shelves carrying oriental silverware and
jewellery. As you enter the t-shaped shop, a large display table carries a
collection of tiny, gorgeously colourful pill boxes; some of which are encased
in mother-of-pearl, next to a scattered collection of animal shapes in
alabaster and other semi-precious stones; look out for the tortoise. Both walls
at the entrance are flanked with oriental-style drop earrings of every possible
design and style, including a few with stones (usually turquoise) and funky designs-
think parrots, skulls and cats.
Further inside,
the shop's centre holds the cash register and main desk, where Nesma Bazaar's
main staff sit and negotiate prices on silverware. Yes, many Maadi residents in on the secret come to Nesma Bazaar to buy and sell
silverware. One peek into the desk's display case shows bag loads of vintage
jewellery and other tempting pieces.
The left side of
the shop is every budding jewellery designer's dream come true. Strings of
multi-coloured beads and stones hang from the high ceiling, as the walls carry
shelf upon shelf of beads and silver trinkets that can be added to necklaces or
bracelets. This is where the shop's craftsmen work all day on making
custom-designed necklaces, and they don't mind you watching or inquiring about
their methods and material. There is also a small glass display carrying a few
silver and cubic-zirconium rings, while the back wall has an even larger
selection of one-off rings with large stones or interesting designs.
The right side of
Nesma Bazaar carries most of the silverware: here, you can find antique-looking
silver hand mirrors, sleek silver cases with beautiful engraved designs, large
silver pendants, candle holders, ashtrays and silver trays. There's also a
small wall collection of cuffs with Pharaonic designs and thick bangles with
colourful stones. The end of the right side has three shelves of silver rings,
some of which are plain and start at around 25LE in all sizes, while other more
complicated designs included a winding python design.
Aside from the
friendly, easygoing staff that will let you browse for hours undisturbed and
remember your name when you come back, Nesma Bazaar's biggest perk is its
custom-made jewellery. Walk in with any design on paper, such as your name in
Arabic or hieroglyphics and they'll have it made into silver within days.
Silver products are weighed per gram, which at the time of this review reached
a little over 4LE, and a silver necklace with the design choice can cost you
anything between 120LE to 240LE, depending on the size of your design and the
length and style of your necklace.
The bazaar also
has a selection of bracelet chains, including a charm bracelet (around 175LE)
that you can fit little charms onto and have shortened to fit your wrist size.
This is the perfect shop to stop by if you want to make a unique, personalised
gift for a friend or a pretty little piece of silverware.