Nomad Gallery: A Precious Shop of Oriental Charm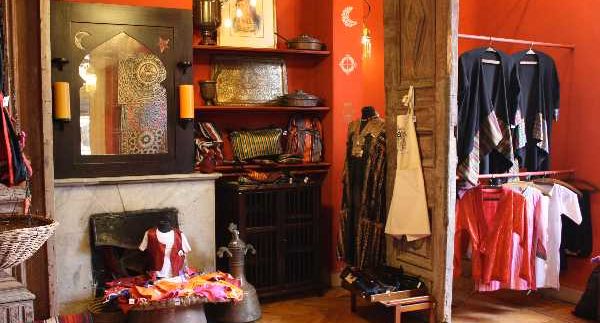 Shopping for beautiful oriental jewellery and antiques
in Cairo is an
irresistible pleasure. If you're looking for an alternative to the tourist-targeting
items that require at least a half-hour of bargaining at Khan El Khalili; head
on over to Nomad Gallery, where they offer fixed prices on high-quality oriental
jewellery, clothes, scarves, antiques and home accessories.
The jewellery at Nomad Gallery ranges from antique Bedouin
styles to contemporary oriental styles. In the main room of the Zamalek gallery
space, there are several large, costume-like antique Bedouin necklaces on
display. There are also some very old rings from Afghanistan laded with stones
and chiselled with gazelles. Amongst the contemporary jewellery, there are
several varieties of kaf fatma, Ethiopian crosses, and Arabic necklaces with 'Masha'
Allah' engraved, in addition to oriental earrings with dangling beads.
There seems to be a scarf at Nomad for every colour of
the rainbow. From solid-coloured, soft scarves to multi-coloured embroidered
Bedouin designs, the selection at Nomad will elegantly complement any ensemble.
There are also several creative home decorations and accessories, including
beautifully crafted metal picture frames, coasters, hand-sewn traditional tent
decorations and pointy slippers made of colourful fabric.
In the back room, there are racks of new and antique
oriental-inspired wrap tops, pullovers and embroidered dresses. The colour and
shape of the clothes celebrate the beauty of classic oriental dress. Several of
the pants and tops are loose-fitting and great for Cairo heat. There is also a dressing room; so
there's no need to guess if something fits or not.
The prices at Nomad are not only fixed; they're also fair. Most scarves range from 25LE
to 80LE, oriental wraps sell between 100LE to 150LE and jewellery, including
earrings and necklace charms, averages at 75LE. Antique items are naturally
more expensive.
The staff is positively lovely and helpful. If the
owner Mahmoud is around, he will probably invite you for tea on Nomad's
balcony. Don't be surprised if you spend a couple of hours sipping tea and exploring
every nook and cranny of this precious den of oriental jewellery, clothes and
home accessories.