On Safari: Comfortable, Quality Travel Clothing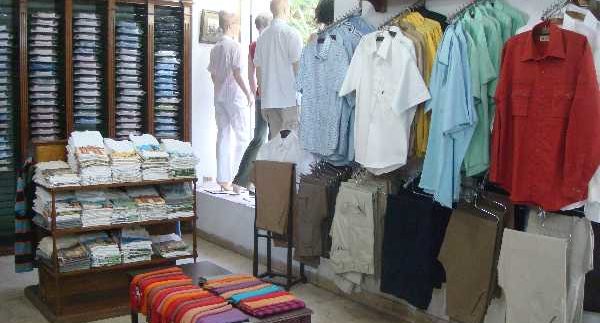 Looking for clothes to head
on your next adventure out of Cairo?
With sections for men, women and children, On Safari can clothe an entire
family about to embark on a trip! A unique clothing venue in the Capital, On Safari
stems from the design belief that clothes should be comfortable, functional and
travel-friendly.
This small Zamalek shop sells
comfy, moderately priced t-shirts, polo shirts, cargo trousers, work-out trousers
and some cute handbags. On Safari is a local business worthy of supporting: all
of their products are proudly manufactured in Egypt and they're mostly made from
fine Egyptian cotton.
On Safari carries two brands:
Sahara and Nomad
Gallery. The Sahara collection boasts an
impressive men's section that offers a variety of colourful polos that feel
fantastic on the skin. Long-sleeve and short-sleeve collared shirts come in a
variety of cool colours, including baby blue, see green and a neutral beige.
True to the tradition of
travelling clothes, many of the shirts have larger pockets, some with zippers,
for the occasional hotel room key or random business card. There are also
proper dress shirts, perfect for a nice business lunch away from home. Cargo trousers,
shorts and the like are available in several colours and varieties.
Much of the women's
collection includes ladies' tank tops and t-shirts from Nomad Gallery that are
decorated with traditional oriental shapes and folklore, including kaf Fatima. There are also lovely loose-fitting cotton trousers
in bright white and army green, as well as warm-up trousers for women that
could be great for sports, pyjamas or just lying around.
The t-shirts come in both child
and adult sizes, and are made by Nomad Gallery. Set on classic, crisp white
cotton, the tees are well-designed with pharaonic themes, contemporary Egyptian
comic strips and other classic oriental shapes.
Scarves and jewellery from Nomad
Gallery are also displayed in this shop. Multi-coloured scarves in brilliant
hues are available as well as beautifully crafted oriental jewellery, many of
which are based on geometric shapes.
T-shirts cost 50LE to 100LE,
polo shirts range between 175LE to 250LE and women's tank tops go for around
65LE.