One Thousand and One Nights: Surprising Zamalek Souvenir Shop
9 Hassan Assem St, Zamalek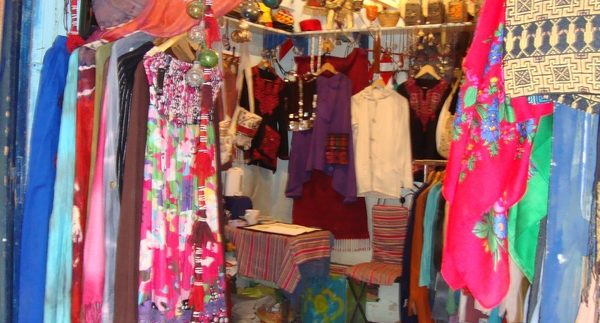 Right around the corner from
Pub 28 in Zamalek, stands One thousand and One Nights, a tiny but truly charming shop. Its space
is jam-packed with a variety of souvenirs, clothing items and scarves, as well
as glass ornaments, vintage postcards and other interesting haberdashery.
At
first glance, you may assume that it's a shady-looking kiosk that sells scarves
and shawls only; as these are the obvious items on display outdoors. However, once
you make peace with the wooden sign displaying the shop's name– with half of
its letters missing– you'll be pleased with what's inside.
The shop
has a wide array of bits and pieces, the majority of which are very reasonably
priced. So step in, ignore the slight stuffy atmosphere and have a good look at
the various items on display. They have Bedouin woven shirts and galabeyas that
can range between 300LE and 900LE, cotton and embroidered blouses from Sinai for
80LE, little Bedouin makeup cases and purses for 45LE, Russian flower scarves
for 45LE, wide-legged harem pants for 80LE, funky over-the-shoulder bags
adorned with studs, coins and beads ranging between 45LE and 140LE, as well as
really cool kheyameya-print table cloths in vibrant colours for 45LE.
They also carry beautifully crafted copper
lanterns on display with die-cut crescents in different sizes ranging between
60LE and 350LE, which can make for a very artsy table piece or decor for your home.
You can also find diverse coloured glass ornaments and balls identical to the
ones sold in Khan El Khalili, sold here for between 10LE and 60LE. With a price bracket of 15LE to 80LE, you are
guaranteed to walk off with a scarf or two from their stock of paisley and burqa
patterns or plain cotton and wool pashminas.
Given Cairo's crazy traffic especially during the week, it is of
no surprise that many would think twice before popping down to Khan El Khalili
or any other markets for authentic items and oriental souvenirs. This is where this charming little shop comes into play.
So if you're just
strolling along the streets of Zamalek or would like to pick up a nice memento
for a friend, One Thousand and One Nights is definitely worth checking out; as you
are guaranteed to walk out with a funky item or two at an affordable price.