Oscar Market: Freshly Squeezed Orange Juice, A Butcher and Brussels Sprouts-Oh My!
105 Omar Ibn El Khattab St.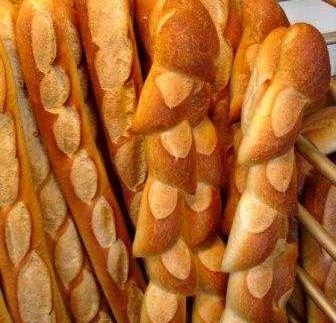 Despite the many hypermarkets spread throughout Cairo, it can still be difficult to find one store that has a wide range of quality meats, baked goods and fresh produce. Oscar Market is a hidden Heliopolis gem with a long-standing reputation and a huge following. A quick browse around the supermarket, and one will find freshly baked baguettes, exotic fruits in the produce section and salami at the pork butcher. This is definitely not a run-of-the-mill Cairo supermarket.

The bakery inside Oscar Market offers inexpensive baked goods that arrive in fresh instalments throughout the day. If you're lucky, they might even be warm when you buy them. Baguettes, croissants and pains saucisses are among their bread choices, which range from 2.5LE to 5LE. Delicious butter cookies with chocolate chips, cinnamon cookies and seasonal baked goods like kahk are also available. Cookies cost about 25LE per kilo and are well worth the money. The men that work at the bakery will happily allow you to sample anything that looks good, so don't be too shy to ask.

The produce section is filled with glorious cherry tomatoes, Brussels sprouts, purple cabbage and radishes, among other vegetables. The fruit section offers the most delicious red pears, peaches, apricots, kiwis, red and white grapes, fresh ginger and three different kinds of apples. Freshly squeezed orange is prepared before your eyes for12LE per litre.

Oscar Market is one of the few places in Cairo where people can sample pork products while the butcher prepares their cuts of salami, bacon and sausages. Bacon is a whopping 74LE per kilo, while sliced ham sells for 47LE per kilo and domestically made sausages are 41LE per kilo.

A wide array of beer and wine are also available at Oscar's. For beer, expect to find decently stocked shelves of Saqqara, Meister, Heineken and Stella. Stella beers are the least expensive, going for around 6.5LE, whereas Heineken sells for just under 10LE. Most domestic wines hover around the 40LE range, including Omar Khayyam and Obelisk. Chateau de Rêves is almost double the price, while the jewel of the wine selection is a Cape Bay South African wine.

Oscar is also a great place to pick up little fix-ins that can add a whole lot to a meal like capers, quesadillas, a variety of pesto sauces, stir-fry sauces, curries, fresh ginger and salad greens. The cheese section has a wide selection of international cheeses such as Frico, Old Amsterdam and President.

Oscar isn't the least expensive grocery store in town; it would be better to head to a smaller, local market for basics that you can buy anywhere. However, if you're prepared to shell out money for items that you'd have a hard time finding anywhere else, head on over to Oscar Market. You won't be disappointed.